David Giza , Senior Director, Contractual Compliance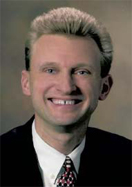 David Giza is Senior Director, Contractual Compliance. In this new senior level position, he is responsible for the strategic leadership and continuing development of ICANN's global contract compliance program. David brings strong contract negotiation, administration and compliance enforcement experience to ICANN.
David joined ICANN in November 2008, and has more than twenty years of professional and senior level management experience in contractual compliance, corporate governance, legal and ethics. Most recently, he served as Director of Global Compliance for the Hewlett-Packard Company. David was responsible for establishing and maintaining compliance with laws, regulations, company policies and commercial and government contracts. In addition, he oversaw enterprise-wide compliance risk management and developed and implemented related business unit programs that drove operational compliance effectiveness and business impact on a global scale. Previously, he led the Ethics and Compliance Office at Snap-on Incorporated. David began his career with W.W. Grainger, Inc. in a variety of business and legal positions, up to and including Assistant General Counsel.
David is based in the Marina Del Rey, California office. He is an active member of the Ethics and Compliance Officer Association and various State Bar Associations in the United States. He has served as an elected local government official in Illinois and on the Board of Directors for various charitable organizations. He holds a Juris Doctorate degree from the John Marshall Law School in Chicago, Illinois, and a Bachelor of Science degree in Commerce, with a double major in management and finance from DePaul University in Chicago.
David can be contacted at 1-310-301-3859 or through email at david.giza@icann.org.