Marco Lorenzoni, Director, Organizational Reviews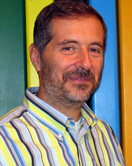 Marco joined ICANN in October 2008. He is responsible for directing the organizational review process throughout ICANN. Marco is a professional evaluator and member of the European Evaluation Society — before joining ICANN he provided independent consulting and project management services to international organizations such as the European Commission, the International Finance Corporation, UNIDO, UNCTAD, the Council of Europe, the European Business Register, and others.
Marco's main areas of specialization include ex-ante impact assessments, on-going evaluations and monitoring, ex-post performance evaluations, reviews and process evaluations of legislation, public policies, programs, organizations and professional networks in a large number of different domains and policy areas. He has worked in over 50 countries throughout the world in diverse multi-national, multi-cultural and multi-stakeholder environments.