Jean-Jacques DAMLAMIAN
20 April 2004
Office :
France Télécom
Special Advisor to the CEO of France Telecom
6, place d'Alleray
75505 Paris cedex 15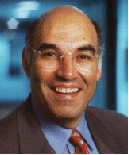 EXPERIENCE
2004 - From April 2004, he is Special Advisor to the CEO of France Telecom.
2003 - 2004 He was Senior Vice President Corporate Technology and Innovation in charge of the Group R&D activities, the Directorate of Innovation and the Directorate of the Intellectual Property and Licensing..
1996 - 2002 He was Group Executive of the Development Branch. He was in charge of Strategy, International Business Development, R&D and Information Systems. During this period he was the sponsor of all the changes brought by the Internet in the business of France Telecom: introducing high speed internet (ADSL) in the offering portfolio, using the Internet technologies in all the very processes of company, etc..
1991 - 1995 He was Senior VP Marketing and Sales for France Telecom. He established an organization based on product lines and Market divisions. He launched the ISP business of France Telecom and created what became Wanadoo later on.
1989 - 1991 He was Group VP International and Industrial Affairs. Under his management France Telecom established strategic points of presence in the world and invested in overseas networks (Telecom Argentina and Telmex in Mexico).
1988 - 1989 He was VP Mobile Services for France Telecom. He launched the GSM-network program (Itinéris), a personal communication service .
Before 1988 He had worked in various divisions in France Telecom (R&D laboratory CNET, Local and Long Distance Networks Operations, Overseas Networks) and at the headquarters as a Personal assistant to Chief Executive Officer.
BOARD MEMBERSHIP
Bull since december 1996
Palm since september 2000
Chairman of the Supervisory Board Eutelsat since march 2001
EDUCATION
Jean-Jacques DAMLAMIAN graduated from the Ecole Polytechnique (X61) and the Ecole Nationale Supérieure des Télécommunications.
PERSONAL
Jean-Jacques DAMLAMIAN was born in Paris on May 29th, 1942,
He is married and has one daughter,
He is Recipient of the French Legion of Honour, the National Merit Order and the "Palmes Académiques"
He is Member of IEEE.