| | | | | | | | | | | | | |
| --- | --- | --- | --- | --- | --- | --- | --- | --- | --- | --- | --- | --- |
| العربية | 中文 | English | Français | Español | Русский | | | 日本語 | Deutsch | Português | 한국어 | Italiano |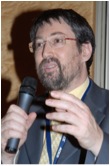 Sébastien Bachollet began his career in 1985 with Air Inter (French domestic airline) moving on to SNCF (French National Railways) in 1991 where he led innovative technological and organizational projects focused on information systems. Based on this experience, in the early 2000, he re-launched and promoted the development of CIO networks (Chief Information Officer) at National Level (within Cigref) and at European Level (creation of EuroCio). Within this framework, he had the responsibility for strategic actions in development and networking.
Internet Involvement
Sébastien has been deeply involved in the Internet world since 1994 with his SNCF (French National Railways) experience, where he launched the www.sncf.fr Web site, the largest e-business web site in France today. He was also involved in developing a comprehensive program to enable employees to be connected and to use Internet technologies (TCP/IP, Domain names…)… During the 2000–2003 period, Sébastien was Deputy General Manager of CIGREF (Club Informatique des Grandes Entreprises Françaises) and he has represented CIGREF and business users in the Internet Governance field at all levels: in France, Europe and World-wide. CIGREF has been a member of the Business Constituency in ICANN since the very beginning. Sébastien participates, in a personal capacity, in the ICANN New TLDs Evaluation Process Planning Task Force and in the Assistance Group of the Evaluation and Reform Committee for the formation of the ccNSO.
Sébastien worked actively (with lawyer Olivier Iteanu) in setting up and holding the European Global Event on domain Names and address systems, now known as EGENI Europe, held in Paris in June or July each year from 2002 to 2008 and involving more than 250 participants each year. The event is organized by ISOC France with the help of Cigref, Medef, and CCIP. He launched EGENI Africa in 2006 with ISOC Morocco. In 2008 the EGENI meeting was held in Paris in conjunction with the ICANN meeting – www.egeni.org .
Sébastien successfully led the local team for the organization of the ICANN meeting in Paris in June 2008 ( http://par.icann.org/fr ) which was attended by 1700 participants.
Sébastien suggested the idea of an ALS (At Large Structure) Summit during the Lisbon ICANN meeting in March 2007. The Summit finally took place at the Mexico ICANN meeting in March 2009 and it was a great collective success.
On a professional level, Sébastien is the founding CEO of BBS International Consulting, a company trading since June 2004 delivering consultancy in the Information Systems arena with a particular emphasis on Internet technologies. He acts as a facilitator at various stages in projects for new gTLDs (.paris, .green).
Sébastien Bachollet has been engaged in community life for many years.
In the Youth Programmes involvement:

Board member of UCPA (National Union of Outdoors Sports Centers) www.ucpa.com for more than 20 years,
Parents' Federation of Pupils - FCPE.

In the field of Information Technology to extend the voice of all users
(large and small companies, not for profit organizations and people), on use and on Internet governance questions.

Internet Society French Chapter – www.isoc.fr

Member since 2001
Board member 2003 – 2009
Chair 2004 – 2009
Honorary President since 2009

Internet Society Chapters

Honorary Member of other Chapters

Board member of FING 2004 – 2009 www.fing.org
Founder and chair of EGENI Europe - www.egeni.org
Elected European Internet users representative since May 2007 – ALAC vice-chair (At-Large Advisory Committee) since 2008
Sébastien is a citizen and resident of France (Europe) living in Versailles. Born in 1957 – married – 3 children (studying).
Sébastien Bachollet, the 13 th of September 2009