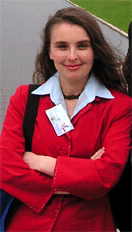 Veronica Cretu is the President of the "CMB" Training Center, Chisinau, Republic of Moldova. "CMB" Training Center is a non-governmental organization the mission of which is promoting Innovations in Communication, Management and Business.
Mrs. Cretu holds a Postgraduate Diploma in Diplomacy, with DiploFoundation, Malta and she will continue in 2007-2008 with a Master Program in Contemporary Diplomacy also with DiploFoundation, Malta.
Along with the activities at the "CMB" Training Center in Moldova, Mrs. Cretu is currently involved in the Internet Governance Capacity Building Program with DiploFoundation. She has been acting as an online tutor and online research supervisor in this Program since early 2005.
Mrs. Cretu has an extensive experience in Training of Trainers, Project Management, Project Evaluation and Adult Education.
Mrs. Cretu's current areas of interest are : The role of ICT in Diplomacy, The Multi stakeholder partnerships in ICT4D; The Evolution and further development of the Internet and the Role of IGF and ICANN in this process; Ways of improving literacy and educational facilities as a means of reducing the digital divide and improving accessibly in the developing countries, Promoting Multilingualism and Cultural Diversity on the Internet, Role of E-education in Promoting Access to Knowledge in the Developing Countries.
Mrs. Cretu's interests as ALAC Committee member : To help to get internet end users - especially of developing countries - involved in ICANN decision making processes, to strengthen civil society in Eastern Europe and considering civil liberties in setting up IT-infrastructure, promoting multilingualism and cultural diversity on the Internet and support competition in Domain market, to do outreach work in Eastern Europe.