| | | | | | | | | | | | | |
| --- | --- | --- | --- | --- | --- | --- | --- | --- | --- | --- | --- | --- |
| العربية | 中文 | English | Français | Español | Русский | | | 日本語 | Deutsch | Português | 한국어 | Italiano |
Fatimata Seye Sylla (Senegal, Africa)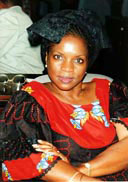 Fatimata Seye SyllaFatimata Seye Sylla is a key figure in the Senegalese Internet community. She worked for ten years within the Senegalese government, and for 9 years in the private sector. She conducted the first national project to introduce ICT in the educational system.
Fatimata obtained her first degree, in Computer Science, from Le Havre University and has a post graduate Management degree from the African regional management school in Dakar. She is also an MIT/ Media Lab Master of Science.
As an international consultant in the field of ICT use in education, gender, media and development, she has worked for a number of United Nations agencies as well as the International Development Research Centre (IDRC) and the Panos Institute. She was a Board Member of CATIA (Catalysing Access to ICTs in Africa).
Mrs Seye Sylla is a founding member and Board member of OSIRIS, a non-governmental organization aimed at promoting ICT use in Senegal, as well as ISOC in Senegal. She is presently the National Coordinator of the African Civil Society for the Information Society (ACSIS) in Senegal, and a council member of Free and Open Source Software Foundation for Africa (FOSSFA).
"I think one of the main challenges for ICANN is how to have developing countries more involved, and not only on the technical side. The Internet is used more and more for development, and ICANN needs to be a part of that."