ICANN Meetings in Montevideo
7-10 September 2001
Archives of this meeting are now available online.
ICANN's next round of meetings will be held (7-10 September 2001), in Montevideo, Uruguay. The meetings are free to attend, and open to any interested person. ICANN encourages broad participation in its bottom-up consensus-development process. You can take part in these meetings by attending in person, by taking part in the webcast and remote participation opportunities, and/or by joining one of the various ICANN-related mailing lists.
The Host Committee has provided alocal website with information regarding the area, the meeting and local hotels.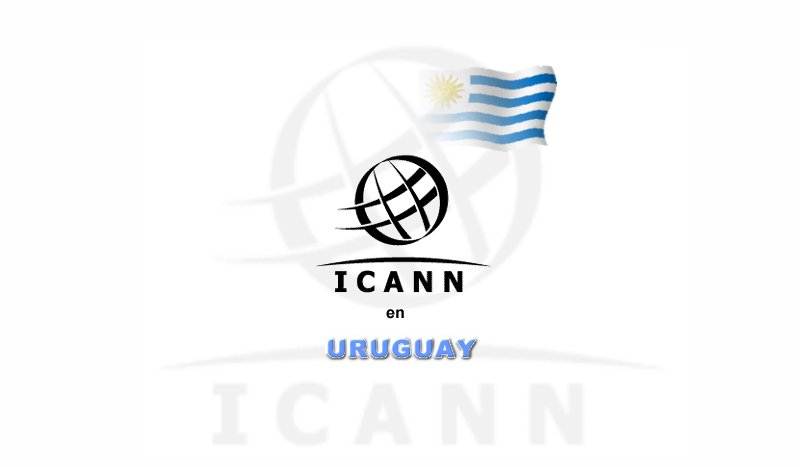 Details about the meetings are being posted on this page as they become available. Please check back often!
This meeting schedule will be updated as more information becomes available. All meetings will be held at the Radisson Hotel, Montevideo.

Registration Desk Open(0800-1700) (Foyer)

ICANN Orientation Workshop (0900-1000) (Room tba)

Government Advisory Committee
Agenda (0800 - 1700):
1. Welcome
2. Election of Vice Chairs
3. .info and country names
4. Working Methods including outreach activities
5. Briefing from President/CEO of ICANN (Open Session)
6. Meeting with ICANN Chair and Board members (Open Session)
› Items 5&6 - (1330 - 1400)
7. Update from the working groups:
• international domain names
• use of geographic and geo-political terms as TLDs and second level domains
• applicability of international conventions
8. Update on ccTLD issues
9. Open Session with ccTLD Constituency (1615 - 1700)


At Large Study Committee Outreach Meeting(1000-1200, 1700-1900) (Gauguin)

Domain Name Supporting Organization Constituency Meetings

Business/Intellectual Property/ISP Constituencies Joint Meeting (0800-1230) (Picasso Room)

Agenda:
Overview of Agenda
Registrars: Transfers Issues
At Large Study Committee
Evaluation of new gTLDs – Discussion
Whois Report
ccTLDs Supporting Organization
Agreement on next steps


Business Constituency (1400-1800) (Picasso Room 3)

Introductory Remarks and Overview of Agenda: BC Reps
Work Items from joint meeting and other work items:
•Transfers
• Evaluation of new gTLDs
• ccTLD SO
• .org - consultation/next steps – Guest: Milton Mueller
• At large membership position
• NAIS – Guests: TBD
• Budget Committee/NC
Uniqueness in the DNS and other thoughts – Guest Speaker: John Klensin
Members Only Session
• Financial Report
• Approaches to reorganizing the NC/At Large Issues
• Schedule for Election Process for BC reps to NC
• Membership fees, grace period, Membership criteria
Hold 18.00 - 19.00 for joint drafting sessions on positions related to shared session in a.m.

Country Code TLD Registry Constituency (0800-1300) (Florida Room)
gTLD Registry Constituency (1100 -1300) (Rembrandt Room)
Intellectual Property Constituency (1330-1800) (Picasso Room 4)
ISP Constituency (1330-1800) (Picasso Room 2)
Non-Commercial Domain Name Holders Constituency (0800-1800) (Cezanne Room)
Registrars Constituency (1400-1800) (Renoir Room)

Registration Desk Open(0800-1700) (Foyer)

Government Advisory Committee
Agenda (0800 - 1800) (continued from 7 September):
10. Evaluation of new gTLDs
11. Second WIPO Process - Final Report
12. Presentation from At Large Study Committee
13. Whois
14. Dates for next meeting
15. Other business
16. GAC Communique
17. Open Session (1700 - 1800)

Domain Name Supporting Organization

General Assembly -(0830-1300) (Ballroom)
Agenda:
1. Administration:

0800 - 0805 Report from the Chair - Danny Younger
0805 - 0810 Report from the Secretariat - Elisabeth Porteneuve

2. Issues:

0810 - 0815 VeriSign: Equitable Allocation of SRS Resources
0815 - 0820 VeriSign: Internationalized Domains Update
0820 - 0835 Registrars: Transfers and Expiring Domains
0835 - 0845 ccTLDs: Formation of ccSO
0845 - 0850 Neulevel: Status of .biz roll-out
0850 - 0900 Afilias: Report on .info Sunrise Registrations
0900 - 0915 ALSC Report
0915 - 0925 NAIS Report
0925 - 0930 Interim Coordinating Committee Comments

3. Public Forum:

0930 - 1000 Open Microphone

4. Intermission: 5. Reports:

1010 - 1015 Simultaneous Translation Task Force - Pilar Luque
1015 - 1020 New TLD Evaluation Task Force - Y.J.Park
1020 - 1025 UDRP Task Force - Milton Mueller
1025 - 1030 Whois Committee
1030 - 1035 Review Task Force - Roberto Gaetano
1035 - 1040 .Org Task Force - Milton Mueller
1040 - 1050 Cyberspace Association - Joop Teernstra
1050 - 1100 Global Internet Policy Initiative - Alan Davidson

6. Session with the DNSO Board Candidates:

1100 - 1120 Candidates' Statements
1120 - 1200 Open Microphone: Questions for the Candidates

7. 1300 End of General Assembly plenary session


Names Council -(1400-1700) (Ballroom)
Agenda:
1. ICANN Board elections:

update on GA session with candidates (Philip) 5 mins
reminder of voting procedure (Elisabeth) 5 mins

2. Re-structuring and review process:

At Large report (feedback from previous day) (Marilyn) 20 mins
Individuals Constituency /link to At Large (Philip) 20 mins
ccSO and implications for DNSO (Peter) 20 mins

3. Equitable Allocation of SRS Resources (Ken) 30 mins
4. WhoiIs survey (Paul) 10 mins
5. Future of Dot org (Milton) 30 mins
6. Reports from other task forces

DNSO Review (Philip) 10 mins
UDRP Review (Guillermo) 10 mins

7. Any other business

Address Supporting Organization -(0800-1200) (Florida Room)
IANA ccTLD Managers Workshop(0930-1200) (Picasso Room)

Sunday, September 9th
(see "Agenda" section below for agenda)
Registration Desk Open(0800-1700) (Foyer)

ICANN Public Forum (0830-1800) (Ballroom)

Monday, September 10th
(see "Agenda" section below for agenda)
Registration Desk Open(0800-1200) (Foyer)

Short Reports (Staff/Board Committees), etc. (0830-1030) (Ballroom)

ICANN Board Meeting (1030-1500) (Ballroom)
None currently scheduled.
AGENDA FOR ICANN PUBLIC FORUM AND BOARD MEETING
The ICANN Public Forum will be held on Sunday, 9 September 2001. The agenda currently includes the following discussion items and reports:

(Draft as of 3 September 2001)
The ICANN Public Forum will continue from 08:30 to 10:30 on Monday, 10 September 2001, with the following presentation and reports:
(Draft as of 3 September 2001)
Presentation:

ENUM: an overview and status – Tony Holmes and Mark McFadden

Reports:

PresidentFinance CommitteeAudit CommitteeMeetings Committee
Root-Server System Advisory Committee
The ICANN Board Meeting will begin on Monday, 10 September 2001 at 10:30. The current agenda includes the following items:
(Draft as of 4 September 2001)
Please check back often for changes to the agenda for the ICANN Public Forum on 9 and 10 September 2001 or the ICANN Board Meeting on 10 September 2001. Comments on the agenda should be sent to Andrew McLaughlin.
SPONSORS AND SPONSORSHIP OPPORTUNITIES
We are presently actively seeking sponsors for the upcoming meeting. Sponsors are given prominent recognition for their contribution to the ICANN process.
If you or your organization are interested in sponsorship of the webcast please feel free to contact meetings@icann.org.
If you are interested in sponsoring coffee breaks or other parts of the meeting please contact the local organizers at icann@seciu.edu.uy
As the meeting is being run on a cost-recovery basis, sponsorship opportunities are limited.
WEBCAST AND REMOTE PARTICIPATION INFORMATION
ICANN will be webcasting the DNSO General Assembly and Names Council Meetings (8 September), the ICANN Public Forum (9 September), and the ICANN Board meeting (10 September). Click Here for details of the webcasts and remote participation opportunities for those unable to attend the meetings in person.
Pre-registration for the Montevideo meetings is now available.
While pre-registration is not required, the information will be used to prepare printed nametags. Pre-registration will also assure that you're kept up to date about logistical details as information becomes available. As an option, you may choose to be included on a public list of meeting attendees.
Members of the press should contact the ICANN General Counsel, John Jeffrey for assistance of any kind.