II.2.1
Services to be Provided
(RFP Section D13.2.1)
By combining experience and innovation, JVTeam will redefine the meaning of registry services. Together with ICANN, the JVTeam registry will set new performance and reliability standards for fundamental domain name operations and will provide integration, reporting, and support services that make the registration and administration of domain names simple, efficient, and secure.
For a TLD registry to provide services in the appropriate way it must have an in-depth understanding of the technical, business and policy components of the space. More importantly, the registry must understand the needs of both the registrar community and the end users. This kind of knowledge cannot be found in books or business plans. Knowledge of the domain name system and the needs of its users can only be gained through experience. Many organizations will recognize the financial opportunity of operating a TLD registry, making assumptions based on speculation. The registry provider must bring substantial knowledge to this kind of operation if it is to provide services which will meet the needs of the DNS community and blaze a trail for the introduction of true competition to the TLD registry marketplace. JVTeam is the only entity capable of bringing such a wealth of experience in registry operation to management of a new TLD.
Since the new TLD will exist in a competitive environment, it is critical that the registry be fair and even-handed in its provision of services. The registry must implement policies and procedures that ensure impartiality and objectivity. Registrars must be able to anticipate and rely on clearly defined services and service levels. JVTeam, in co-operation with ICANN and the registrar community, will develop clear guidelines and service levels for the provision of TLD registry services. In addition, the JVTeam registry will operate according to a strict code of conduct which ensures its absolute neutrality. This will result in an open and fair competitive environment beneficial to registrars, other registries, and most importantly the Internet community.
JVTeam Understands the Issues
JVTeam brings to this process an intimate understanding of the key operational issues involved in administering and publishing zone files as well as with the existing registry/registrar system for TLD names. Combine this with unparalleled experience in registry operations, data administration, and IP networking, and you have the world's most qualified registry solution team. Not only does JVTeam understand what registry services are needed, it also has the know-how and experience to deliver these services effectively.
JVTeam Sees the Opportunities for Innovation
The domain name system is still in its earliest stages of growth. As the user base of the Internet continues to expand into all areas of personal and commercial activity, the DNS will continue to play a significant role. JVTeam benefits from having a diverse commercial background which includes activity in telecommunications, e-commerce solutions, software and database development, telephone numbering systems, electronic trust products, and most importantly the DNS itself. This affords JVTeam access to an expansive network of information and opportunities which provides the foundation for the ongoing evolution of the DNS. But for the DNS to evolve in this way, it requires the next generation of registry services. Only JVTeam has the experience and the vision to provide those services. Exhibit II.2-1 provides an overview of the services to be provided by the JVTeam registry.
Core Domain Name Services The JVTeam registry will offer a complete suite of domain name registration and administration services. These will include all functional domain name operations and will be accessible via the registry's main system interface, the eXtensible Registry Protocol (XRP).
Registrar Support Services The JVTeam registry will provide the registrar community a range of support services to assist them in providing high quality domain name services to end users. These services will include 24 x 7 x 365 technical support, billing assistance, and dedicated account management.
Information Services The JVTeam understands the critical nature of information flow between the registry and registrars. The registry will facilitate multiple means of two-way communication. The JVTeam web site will also serve as a central information source for registrars.
Enhanced Registry Services In addition to basic registration and support functions, JVTeam registry will provide workable solutions to the real world problems currently experienced by registrars and registrants and continue to innovate and enhance the role of the registry. As part of its mission to foster the evolution of the DNS, the JVTeam registry solution will build upon the basic services already offered within the RRP through enhancement, extension, and addition.
II.2.1.1
Core Domain Name Services

The JVTeam registry will support all of the domain name operations currently using the Registry-Registrar Protocol (RRP). In addition, JVTeam's solution will introduce new operations and enhance some of these components with greater security and administration tools. The JVTeam registry will provide services exclusively to accredited registrars and will not provide these services directly to end users. In this way the registry can maintain absolute neutrality in performing domain name administration functions.

Top level Domain Registration Services Accredited registrars will be able to enter new domain names into the registry database in real time. This will be done through the XRP interface using a multi-faceted security procedure. The JVTeam registration functions will be more robust and extensible than the current system, allowing registrars to benefit from more control over the way in which they interact with the registry. The functions required to create a new domain name will be augmented by two supporting components enabling registrars to A) check the availability of a domain and B) to cancel the registration within a specified time frame without incurring a registration fee. The XRP interface will provide these services in real-time, enabling registrars to fully integrate their own domain name registration web sites and brand them as their own. When combined with near real time zone file updates, the JVTeam registration services will facilitate the creation of a fully functioning domain name in less than one hour. This represents a significant advantage over the current 24-48 hour time frame. As part of the whole JVTeam offering, the registration services will provide a more automated, efficient service enabling the new TLD to compete effectively with .com and raise the standard for the registration services across the board.

Top level Domain Administration Services Registration is only one component of a domain name's life cycle. It is easy to forget that a domain name must be maintained throughout its license period. In many cases this will be as long as ten or more years. During that time it is critical for registrants to have easy access so they can move their domain names between Internet Service Providers (re-delegation) as well as between registrars if they so choose. It is also imperative that all relevant information for the domain name be kept current and valid. For registrars to ensure that their customers can perform these tasks easily, they must have access to simple, real-time maintenance functions. Registrars must be able to automate these processes wherever possible so their support costs can be kept low and the price provided to the registrant remains competitive.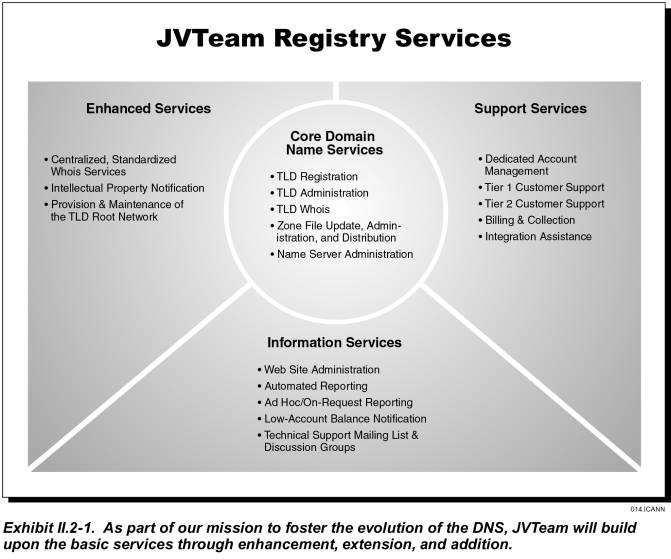 <![if !supportEmptyParas]> <![endif]>
Using the XRP protocol, accredited registrars will have access to all required domain name maintenance operations including contact information updates, registrant changes, re-delegations, license renewals, registrar transfers and cancellations. All of these services can be engaged directly, allowing the registrar to fully automate all domain name maintenance operations. Currently, several of these operations require expensive manual authentication. The JVTeam solution will facilitate easy automation of these operations by combining the XRP with a centralized Whois service and a fat registry. In this way, the operating costs for registrars will be significantly reduced, registrants will enjoy real-time maintenance services, and the TLD will offer a substantial competitive advantage over existing TLDs.
Top Level Domain Whois Service The Whois service is central to the operation of a top level domain. The JVTeam Whois service will centralize all relevant data for domain name registrations in the registry, including contact and authentication data. As under the current system, accredited registrars will have responsibility for creating and maintaining all associated registrant records for any domain name registered under their account. By providing this service at the registry level, the difficulties currently experienced in operations such as registrar transfers will be solved as initiating and authorizing such a request will be simply an additional function call on the registry. In addition, modifications to the Whois database will be enacted and visible in near real-time, further facilitating automation of operations such as ownership changes. The next- generation Whois service provided by JVTeam will enhance the stability of the Internet by cultivating consistency and minimizing end user confusion. The Whois service is described in detail in Section III.2.8
Zone File Update, Administration and Distribution Service The most important function of the DNS is to assist users in finding an Internet address and accessing the information stored there. Therefore, it is essential that domain names can be easily directed and re-directed to the appropriate IP address. To facilitate this, the zone file for the TLD must be easily updated and secure. Under the current system, it can take as long as 48 hours for a domain name to be redirected from one host to another. The JVTeam solution will allow registrants to easily modify the delegation details for their domain name and for those changes to be reflected in the TLD zone file in less than one hour. Utilizing the XRP interface, registrars will be able to facilitate these changes in real time allowing complete automation of the process. The registry will then make the requested changes directly into the zone file by updating the specific zone file entry. The registry will update all TLD zone nameservers across the network simultaneously and because of this, registrants will enjoy a real-time domain name experience and the TLD will be able to leverage this as a point of differentiation from .com. JVTeam will provide zone file administration and distribution services which will ensure a secure and stable top level domain space.
Nameserver Administration Service A domain name may also be used to construct a host name. For example, the domain name example.com (referred to as the parent) has a nameserver called ns1.example.com (referred to as the child). These nameservers are created by making an entry in the .com zone file which assigns the host name to a matching IP address. Since several thousand domain names may be delegated to a single nameserver, it is imperative for the stability of the Internet that these nameservers be easily created and maintained. The XRP will facilitate the creation and administration of nameservers in real time and those changes will then be reflected in the zone file in less than one hour. Under the current system, a change to a nameserver can bring down all of the domain names delegated to it for as long as 48 hours. Because the JVTeam registry solution will provide nameserver updates in near real time, these changes will have substantially less impact and will significantly reduce costs for many Internet Service Providers.
II.2.1.2
JVTeam Registry Support Services

JVTeam's unparalleled experience in providing domain name and data administration solutions makes it the only entity truly capable of providing the technical support and administration services necessary for the operation of a TLD registry.

JVTeam support services will be provided by account managers, First Tier Customer Support, Second Tier Customer Support and the Billing and Collections Team. JVTeam will ensure that the registrar community will have access to the right support from the right people.

Interfaces for Accessing Support JVTeam recognizes that a truly internationalized registry service must be capable of providing customer support through a number of different mediums. This will encourage development of the registrar community in all nations throughout the world. A registrar who finds telephone support particularly expensive may prefer to use email or an online messaging facility. The JVTeam registry will provide multiple interfaces to maximize effective communications between the registry and registrars.

Registrars will interface with registry support services via several different mediums including:

<![if !supportLists]> <![endif]>24 x 7 x 365 telephone access

<![if !supportLists]> <![endif]>24 x 7 x 365 email access

<![if !supportLists]> <![endif]>24 x 7 x 365 self help via our web site

<![if !supportLists]> <![endif]>Online messaging support

<![if !supportLists]> <![endif]>Extensive self-help provided via the registry web site including detailed documentation and FAQs

<![if !supportLists]> <![endif]>Easy to use training manuals

<![if !supportLists]> <![endif]>Discussion and news lists

<![if !supportLists]> <![endif]>Password access to reporting tools via a secured section of the registry web site.

These interfaces will be constantly refined by monitoring service levels and via feedback from the registrar community. The registry support interfaces will then continue to grow and change with the needs of our customers and other communication options such as real-time online chat and Voice Over IP (VOIP) support will be explored and deployed in accordance with the needs of the registrar community.

Dedicated Account Management Each registrar will be assigned a dedicated account manager. Account managers will pro-actively build solid customer relationships and ensure that all service levels are met. More than this, account managers will serve as the human interface between the registry and registrars to maximize communications in both directions and to assist registrars in developing their domain name businesses.

Some of the account manager's responsibilities will be to:

<![if !supportLists]> <![endif]>Act as a central point of communication between the registry and registrars for all business issues

<![if !supportLists]> <![endif]>Actively educate registrars to maximize their efficiency in using the registry system

<![if !supportLists]> <![endif]>Be a point of escalation for any problems encountered

<![if !supportLists]> <![endif]>Understand the registrar's business model and determine how the registry can assist in growing that business

<![if !supportLists]> <![endif]>Identify and provide solutions for any areas where the registry is not meeting the registrar's needs

<![if !supportLists]> <![endif]>Actively encourage and facilitate input from registrars in system development and enhancements

<![if !supportLists]> <![endif]>Communicate any system or procedural modifications.

Registry First Tier Customer Support JVTeam will provide a dedicated support team to assist with integration and operational issues. The Customer Support Team will service the registrar community 24 hours a day, 7 days a week.

The Customer Support Team will provide assistance with domain name registration and administration operations, provide troubleshooting assistance and problem resolution for first level technical and integration issues, answer questions regarding policy and procedures, address charging and payment issues, and explain general guidelines over the phone. In addition, Customer Support team members will actively follow customer requests through to resolution. If unable to provide resolution for an issue, the registry Customer Support Team will follow clear guidelines for escalation to either the registrar's account manager, the Second Tier Customer Support Team,or the relevant management team.

All customer support queries, phone or email, will be logged and tracked through assignment of a trouble ticket provided to the registrar. Technical and general customer support for registrars will be provided according to a clearly defined Service Level Agreement (SLA) between registrars and the registry, bringing an unprecedented level of service standards to this field.

While it is envisaged that 90-95% of technical enquiries will be resolved by the First Tier Customer Support Team, any technical issues which cannot be adequately resolved at that level will be immediately escalated to a second tier of technical support.

Registry Second Tier Customer Support Acting as a second level of escalation in resolving registrar technical issues, the Second Tier Customer Support Team will be responsible for providing complex problem identification and resolution, in-depth system integration assistance, and system trouble shooting. This team will be a subset of the Production Support Team. Some of the key functions supported by this team will be:

<![if !supportLists]> <![endif]>Addition of new registrars into the system

<![if !supportLists]> <![endif]>Maintenance of registrar security mechanisms such as public / private keys, passwords, etc.

<![if !supportLists]> <![endif]>System service reporting

<![if !supportLists]> <![endif]>Change management

<![if !supportLists]> <![endif]>Mass database modifications and updates

<![if !supportLists]> <![endif]>Non-standard database modifications

<![if !supportLists]> <![endif]>Production and updates of system documentation and integration guides.

Billing and Collections Support The Billing and Collections Team will provide support for account statements, reconciliation, and other billing issues. While the primary point of contact for registrars on these issues will be the account manager, the Billing and Collections Team will be responsible for understanding and meeting the day to day billing needs of registrars. The core responsibilities of the registry Billing and Collections Team will be to:

<![if !supportLists]> <![endif]>Accept and process initial registration payments from registrars

<![if !supportLists]> <![endif]>Assist registrars to add funds to their account

<![if !supportLists]> <![endif]>Audit and produce monthly statements for registrars

<![if !supportLists]> <![endif]>Monitor available funds in registrar accounts

<![if !supportLists]> <![endif]>Audit and reconcile system registration records with accounting system records.

Staff Training and Documentation The Customer Support Team will develop and distribute extensive training manuals to ensure that all staff have an intimate knowledge and understanding of registry operations and procedures. While staff will be chosen on the basis of domain name management experience, the very nature of creating a new registry with new operational procedures requires that all customer support staff are provided with substantial training and accreditation for providing support in the JVTeam registry environment. In this way, the JVTeam registry will ensure extremely high levels of quality, consistent support services.
Service Commitments
All customer support services provided to registrars will be executed according to stringent guidelines and time frames as defined by SLAs between the registry and its customers. In addition, all support staff will follow detailed escalation paths for unresolved issues. JVTeam will work closely with ICANN and the registrar community to develop service commitments and escalation paths that adequately meet the needs of registrars in providing outstanding responsiveness and service levels to their customers.
II.2.1.3
Registry Information Services

JVTeam will provide accurate, critical information to registrars via several different mediums. In addition to regular automated reports, JVTeam will provide access to various account information via a secure section of the registry web site. JVTeam believes that reporting should not be a static service, and account managers will work closely with registrars to ensure they are receiving the information they need when they need it.

The Registry Web Site JVTeam understands how critical information flow is for the registry to interact with registrars. JVTeam will implement an easy-to-navigate web site as the cornerstone in its communications strategy. Dedicated staff members of JVTeam will build and maintain the registry web site, which will provide a central point of contact for registrars to access information about all areas of the registry's operation. The site will be designed according to best practice usability and functionality precepts.

Some of the key components of the site will be:

<![if !supportLists]> <![endif]>A password protected area where registrars can access a suite of reporting and auditing tools for monitoring all significant interaction with the registry

<![if !supportLists]> <![endif]>A central repository of all technical and system documentation

<![if !supportLists]> <![endif]>Detailed information and documentation regarding integration assistance

<![if !supportLists]> <![endif]>A comprehensive list of Frequently Asked Questions (FAQs)

<![if !supportLists]> <![endif]>All relevant contact information and escalation procedures

<![if !supportLists]> <![endif]>A collection of marketing material and information which may be freely used by registrars to assist them in promotion of the domain space

<![if !supportLists]> <![endif]>Free downloads of XRP client software and supporting software tools.

Automated Reporting Service The JVTeam registry will include an automated reporting service which will provide a regular, high level description of information about the registrar's interaction with the registry. The report will be emailed to designated registrar contacts. The specific information included in these emails will be developed in consultation with registrars to ensure that they have access to the information critical for their business. Different sets of information will be included for different time periods. The reports will include a set of data such as:

<![if !supportLists]> <![endif]>Total number of domains registered since becoming a registrar

<![if !supportLists]> <![endif]>Total number of domains registered in the previous 24 hours, 7 days, month, etc.

<![if !supportLists]> <![endif]>Total number of domains transferred from other registrars

<![if !supportLists]> <![endif]>Total number of domains transferred to other registrars

<![if !supportLists]> <![endif]>A complete list of domains registered/cancelled during the previous 24 hours, 7 days, month, etc.

<![if !supportLists]> <![endif]>Remaining account balance.

On-Request/Ad hoc Reporting Service JVTeam understands how critical it is for registrars to have access to up-to-date, accurate reporting. While the registry will provide a number of standard reports for registrars, it is anticipated that they may require additional, specific information from time to time. Upon request, the Customer Support Team will develop reports for domain registration and maintenance activity such as:

<![if !supportLists]> <![endif]>Numbers and names of domains registered within any specified period

<![if !supportLists]> <![endif]>Domain names transferred to/away from the registrar within a specified period

<![if !supportLists]> <![endif]>Change of ownership activity, including exact time and date requests were processed

<![if !supportLists]> <![endif]>Re-delegation activity for domains assigned to a given registrar

These reports will be developed on an on-going basis in consultation with registrars and ICANN.

Low Account Balance Notification Service JVTeam recognizes the critical nature of detailed and accurate account notifications. Registration of domain names will be managed on a pre-payment basis, eliminating the need for credit arrangements or invoicing. To commence registering domains with the JVTeam registry, a registrar will first provide a minimum payment. At all times the registrar's account balance will be expected to be greater than a pre-determined level. If a registrar's account balance falls below that level, they will no longer be able to enter new domain name records into the registry.

To ensure that registrars do not lose business because of an unavailability of funds, the registry will establish a clear and automated low account balance notification system. The purpose of this notification system is to ensure that no registrar is prevented from adding new domain records into the registry. Upon being set up as a registrar with the JVTeam registry, the registrar will designate the email addresses, phone, and fax numbers of at least two, low balance billing contacts. At agreed balance points, the registrar and their account manager will be advised of low funds.

Technical Support Mailing List and Discussion Groups Registrars will be able to participate in and provide feedback on any and all technical issues involved with the registry's operation via mailing lists and discussion groups. In this way the registry can continue to evolve as a tightly customer-focused service provider. These communication channels will provide a means for sharing information regarding the registry's operation with a view to better informing future TLD and registry development.

The registry mailing list will be administered under the guidance of the Customer Support Team and will be accessible to approved registrar subscribers. Hence, the registrar community will be able to actively promote ideas and discussion on the registry's direction.
II.2.1.4
Enhanced Registry Services

As the next generation registry, the JVTeam solution will offer additional and enhanced functionality for registrars which can in turn be provided to registrants.

This new functionality will add significantly to the TLD's ability to compete with existing domain spaces, provide solutions to some of the existing operational issues, and construct the framework for innovative applications of the Domain Name System.
A Centralized, Standardized Whois Service
The current registry/registrar model uses multiple Whois databases and database managers without any clearly defined standard to determine what information is stored within these databases or the format required for that information. The fundamental flaw in the existing system is this lack of uniformity. The current approach belies the fact that domain names move between registrars. For instance, if a registrant were to move its domain name example.com from registrar A to registrar B, then registrar B must have some means of verifying ownership and authorization details. In order to achieve this, the gaining registrar (registrar B) must view the Whois entry for example.com in the Whois database maintained by registrar A. Serious problems arise, however, when registrar A has a vastly different Whois format from that of registrar B (and C, D, and E for that matter) and so registrar B cannot automate a verification procedure for modifying this domain name.
JVTeam will provide a registry Whois which stores all significant contact and authentication data for domain names, thereby ensuring that domain name Whois records are consistent regardless of who the registrar may be. This will allow for full automation of domain operations such as moving a domain name from one registrar to another and will significantly enhance the security which can be implemented. This is a significant advantage for all parties: registrars will enjoy reduced administrative costs through automation, registrants will have the benefit of increased security and faster turn around on their requests, and the TLD itself will be ultimately more competitive.
Provision and Maintenance of the TLD Nameserver Network
Unlike the current TLD zone distribution network, the JVTeam registry will assume responsibility for development and maintenance of the nameservers. This will facilitate much more reliable and scalable architecture and will allow for near real-time zone file updates whenever modifications are made. JVTeam will establish and administer a network of nameservers within a fully secure and stable architecture. JVTeam will replace the traditional primary nameserver with a cluster of redundant, zone distribution database servers. This will allow us to rapidly and easily accommodate increasing query loads. The nameservers will be located in geographically diverse locations to ensure faster performance in specific areas which will enhance the ability for the new TLD to be accessed globally. These nameservers will be housed within data centers which ensure security and stability for the domain space. They will also be supported by 24 x 7 x 365 service, automated and manual monitoring systems to guarantee maximum reliability and response times. Further details may be found in Section III.2.5. The JVTeam strategy for a new, scalable, and more reliable nameserver network will ensure the Internet's stability and evolution both now and for many years to come.
Intellectual Property Notification Service
JVTeam recognizes the complexities raised by intellectual property issues and will provide a service whereby interested parties are able to monitor the registration of domains which may infringe on their intellectual property. This service will be facilitated by the registry but offered and administered via registrars.
The points below provide a high level overview of the operation of the Intellectual Property Notification Service (IPNS) prior to the new registry going live . The process will continue to be in operation once normal registration operations have commenced.
Phase 1: The registry provides advance information describing the process Ninety days prior to the registry going live, a notification will be placed on the ICANN web site advising interested parties of the process for enrolling in the Intellectual Property Notification Service. This may also be broadcast by providing a button to accredited registrars for placement on their web sites. The button will link to the ICANN web site and include a title such as Enroll in the Intellectual Property Notification Service for new TLDs . During this time, information kits will be freely distributed to the press, registrars, and the general public. The kits will provide detailed information regarding the Intellectual Property Notification Service and how it can be implemented.
Phase 2: The Registry accepts pre-registration enrollments Within 30 days of the registry going live, entities who hold a registered trademark may lodge a request to be notified when a domain name, which they believe may infringe their intellectual property rights, is registered. To activate this system, the entity completes an online form. The form is intended to capture details of the party claiming intellectual property over a particular domain name together with the justification for that claim. Since this system is intended to afford protection to parties with genuine, registered trademarks, the registration details of the trademark will also be captured.
Below is an example of the information required from an entity wishing to enroll in this service.
<![if !supportLists]> <![endif]>Domain name
<![if !supportLists]> <![endif]>Exact trademark
<![if !supportLists]> <![endif]>Country of registration
<![if !supportLists]> <![endif]>Trademark or other reference number
<![if !supportLists]> <![endif]>Date of first use
<![if !supportLists]> <![endif]>Contact details including: trademark holder entity name, address, phone, fax, email
<![if !supportLists]> <![endif]>Contact person name, address, phone, fax, email, and relationship to trademark holder entity
<![if !supportLists]> <![endif]>Additional comments.
Each submission will contain only one domain name and in order to activate this service, there will be a nominal fee per submission. This charge will cover administrative costs and provide a mechanism for discouraging frivolous use of the service.
After trademark holders have successfully lodged a request to be notified, they are advised that:
<![if !supportLists]> <![endif]>Their submission has been received
<![if !supportLists]> <![endif]>Their submission does not guarantee the name will be reserved for or allocated to them
<![if !supportLists]> <![endif]>There may be other parties claiming intellectual property over that particular domain name.
They are also provided information regarding the Uniform Charter Dispute Resolution Policy (UCDRP).
At the registry system level, the domain name (which doesn't yet exist as a registered name) has a code attached to it indicating that someone has claimed intellectual property rights over that name.
Phase 3: The registry begins accepting registrations and notifies of possible trademark infringement When an application is lodged for a domain name which has been enrolled with the Intellectual Property Notification Service, the domain name applicant is advised that a third party or parties has claimed intellectual property rights over that domain name. They are then directed to the section of the UCDRP/registration agreement referring to intellectual property infringements and told that their license may be revoked if they are acting in bad faith . The applicant is not prevented from completing the registration.
Once the application has been completed, all parties who have engaged the notification service for that exact domain name are advised by email that a party has registered it. Included in the email will be further information on the UCDRP and an explanation of steps to take for further dispute action.
The Intellectual Property Notification Service will provide an additional level of protection for holders of registered national trademarks and will work in conjunction with the UCDRP to discourage incidences of domain names being registered in bad faith.
Registry External Test Environment
The JVTeam registry/registrar system is designed to minimize the barriers for registrar integration. In accordance with this principle, JVTeam will provide a fully functional, externally exposed test system which registrars may use to develop and actively test their systems before deploying to a live environment.
The services provided by the JVTeam registry will be more than a reliable simulation of the existing registry services. The JVTeam registry will lay the groundwork for an innovative evolution of the registry/registrar paradigm and the domain name system.
<![if !supportEmptyParas]> <![endif]>
<![if !supportEmptyParas]> <![endif]>