---
Internet Society Response to the Preliminary Staff Report on Evaluation of the Proposals for the Reassignment of the .org Registry
The Internet Society (ISOC) for response to the Preliminary Staff Report on Evaluation of the Proposals: Reassignment of the .ORG Registry.
First, we thank the ICANN staff and the four contributors to the Preliminary Report – Gartner Inc.; the Noncommercial Domain Name Holders Constituency (NCDNHC) team; the international CIO team; and the General Counsel – for their time, energy, and commitment to this important decision. We believe the report reflects a process that has been as fair, thorough, impartial, and transparent as is reasonably possible.
The preliminary report awarded ISOC top tier ratings across the board--the only bidder to achieve this consistently high level and we were pleased to see the evaluation report recommend that "the proposal submitted by the Internet Society (ISOC) be selected." ISOC has also recently posted a statement and additional FAQ's to address several questions that emerged after the report was published.
Second, we'd like to reiterate that ISOC has been a not-for-profit corporation for over 10 years and is operated exclusively for educational, charitable, and scientific purposes. ISOC is a global entity as illustrated by the following:
Individual Members: Over 10,000 individual members distributed as follows: 33% Europe; 35% North America; 17% Asia-Pacific; and 15% from Africa, Latin America, etc. Individuals elect their chapter leaders, who represent them with the ISOC secretariat.
Chapters: Our 73 existing and 64 proposed chapters are located in: Europe-31%; North America-21%; Asia-Pacific-12% and Africa, Latin America, etc.-36%.
Organization Members: Over 130 organizations are also members of ISOC, one third of which are not-for-profits. While many are global in scope, their headquarters break out as follows: Europe-37%; North America-45%; Asia-Pacific-16% and Africa, Latin America, etc.-2%.
Board of Trustees: Our 17 current Board members have home ties in: Europe-41%; North America-41%; Asia-Pacific-6%; and Africa, Latin America, etc.-12%.
Should ISOC be selected, we will form a new not-for-profit company – the Public Interest Registry (PIR) –to run the .ORG registry. PIR's board will be appointed by ISOC, but PIR will be a separate legal entity and isolated from ISOC financially and operationally. PIR (not ISOC) will enter into the registry management agreement with ICANN, and PIR will contract with Afilias for all back-end registry services. Our agreement with Afilias provides that Afilias will cover the start-up, transition, and initial operating costs and will then be repaid by PIR for these expenses over the course of the agreement. Afilias' use of existing capacity will help minimize these costs.
Third, regarding the individual reports, we find the evaluation methodologies to be carefully conceived, the executions objective and impartial, and the resulting conclusion sound. Nevertheless, we would like to draw your attention to several aspects of our bid in response to specific comments in the evaluations. We will address the NCDNHC report first in keeping with its status as the .ORG user representative. Then, we'll comment on the Gartner, CIO and General Counsel reports in that order. We will close with a summary of the strengths of the ISOC proposal.
NCDNHC Report:
Criteria: 4 (differentiation), 5 (responsiveness and governance), and 6 (public support)
We will address the comments of the NCDNHC first because, as a not-for-profit organization ourself, we feel it is extremely important to ensure a voice within .ORG for the non-commercial community. To our knowledge, the .ORG evaluation process is the first attempt by ICANN to explicitly incorporate the voice of the registrant in the formal proposal evaluation stage. As that voice, the NCDNHC report must carry substantial weight once basic competency criteria have been satisfied.
Members of the DNSO's Noncommercial Domain Name Holders Constituency assumed the difficult task of assessing each proposal on "usage" issues, including differentiation, responsiveness, and public support. We recognize that the diversity of viewpoints within this broad community made this task challenging, but we appreciate the efforts and care shown, and believe the report reflects a balanced and thoughtful result. The committee used two different final ranking mechanisms, and the ISOC proposal finished in the top tier under both approaches. The committee's incisive comments provide helpful guidance regarding issues of importance to the community. Topics of note include:
Differentiation--Innovation: The NCDNHC report indicated a lack of "innovative 'thick registry' services" to differentiate .ORG. Our proposal does propose new services to strengthen the value proposition, but they were addressed in Criteria 7 (Services-bid section V) – which was not included in the scope of the NCDNHC assignment. Perhaps we should have also addressed them under Criteria 4 (Differentiation-bid section VIII). Nevertheless, we proposed a wide array of innovative thick registry services (both free and low-cost). These include a .ORG directory, ORGRing linking to related sites; ORGWatch domain monitoring; ORGLock hijacking protection, and other safeguarding, and privacy protection products. Together with the marketing activities, we believe they will help PIR to differentiate the .ORG TLD.
Differentiation – Registrars: PIR is committed to working with registrars to make .ORG a success. Our proposed channel programs will improve the penetration of .ORG among non-commercial entities, expand .ORG beyond the US to make it a truly global domain, and market the domain in a responsible and appropriate manner. Our partner Afilias has working relationships with 100 ICANN-accredited registrars, who represent more than 99% of existing .ORG registrations.
Our proposal advocates co-op programs that offer real financial incentives to registrars. For example, PIR will establish a .ORG Marketing Fund designed to help offset Registrar expense as they support .ORG in marketing efforts. Our proposed programs innovatively tie reimbursements to results. Our partner Afilias was the first of the new gTLD registry operators to launch such a program to registrars, and will offer advice to PIR.

Differentiation – Defensive: The report correctly noted our proposal's intent to minimize speculative or defensive registrations by focusing our outreach on a limited target: non-commercial entities not yet on the Internet. While the proposal clearly identified the programs we would execute, it did not document our intent to avoid soliciting any speculative or defensive registrations. For the record, it is not our intent to solicit this type of registration for .ORG.
Responsiveness – Input/Governance: Our bid contains proposals for new community input mechanisms for use by the noncommercial and Internet communities. We agree that it is essential for the registry operator to solicit and take advantage of advice from the .ORG community it will serve.
PIR will establish a .ORG Advisory Council to focus solely on .ORG issues. These issues may range from policy to the introduction of new services, and the Council will serve as an ombudsman-type resource for management as it seeks to incorporate the broadest possible input for important decisions. The Council will be made up of leadership from the broad spectrum of the non-commercial world.
We will also establish Web-based input mechanisms. Members of the broad Internet community should have means of learning about and commenting on initiatives under way in the .ORG domain. Similarly, .ORG management should be able to tap the community for input. To facilitate this communication, we have proposed polling, discussion forums, and more.
PIR will be governed by Directors, who will be separate from but selected by the ISOC Board of Trustees. ISOC trustees are, in turn, selected by representatives of various ISOC member or expert groups, so input from a broad constituency will become part of PIR's heritage as well.
Responsiveness – Good Works: PIR's marketing program rests importantly on activities that may also be counted "good works" or "community projects." These are outreach programs that will educate and train nonprofits on how to better leverage the Internet. In some cases, PIR will adapt ISOC's proven workshop programs, enabling PIR's outreach to commence without a lengthy startup period. Some of these existing programs are detailed in the bid.
Public Support: By the time of the evaluation, ISOC had presented more than 500 letters of support from a broad geographic spectrum, over one third (1/3) of which were from non-ISOC-affiliated individuals. We were also pleased with other letters of Class A support that were presented in the proposal itself, such as those from the Research Libraries Group, EDUCAUSE and INSEAD. The e-mail addresses of the supporters, which have been omitted out of respect for the privacy of the authors, are available for ICANN's inspection if desired.
We should note that since our proposal was submitted, we have received 100 more letters of support, including .ORG registrants such as The British Computer Society (www.bcs.org) noted in the report and the International Council for Computer Communication (www.icccgovernors.org). The ISOC proposal now has support from 85 countries, and ISOC's was the only proposal to achieve a "high" rating for geographical diversity from the NCDNHC. As the report correctly pointed out, ISOC's endorsement letters supported ISOC as a bidder and the ISOC proposal in its entirety rather than isolated portions of it.
Gartner, Inc. Report:
Criteria: 1 (stable registry), 7 (services), 8 (protocol changes support), 9 (transition), 11 (complete and realistic)
This technology-focused evaluation followed a thorough, rigorous scoring process, earning ISOC a top-tier rating. Gartner clearly recognized the strengths of Afilias, our back-end registry services provider. Specifically, that Afilias:
currently provides registry services for more than 925,000 names (945,000 as of August 29, 2002) with a near-real-time EPP process that is fast, reliable, and secure;
supports over 100 ICANN-accredited registrars, who account for more than 99% of current .ORG registrations;
will, at PIR's direction, introduce new services to add value;
is proven able to provide a full range of services on an equivalent basis as mandated by ICANN;
can deliver a transition that is free of service interruptions.
The stability of Afilias is further illustrated by the deliberate manner in which the .INFO domain was launched. Despite market conditions that varied significantly from the original plan, the company was able to: deliver on commitments to both ICANN and the registrars; conduct business in a financially stable manner that included steady staffing and program levels; and operate in a reliable and consistent manner. Net, Afilias has a proven ability to plan carefully and execute prudently.
While Gartner judged our proposal to be "very detailed and thorough," for purposes of clarity we have chosen to address five specific discussion points in relation to their report:
1) Perceived differences in SLA commitments in C17.13 vs. C28
Section C17.13 explicitly discusses our guarantee of absolutely the highest network and gTLD Domain Name Service SLAs – the most critical part of stable operations within a registry. Section 28 specifically covers SRS availability.
Our datacenter and DNS providers1, IBM and UltraDNS, have proven, battle-tested infrastructure and services backgrounds that enable them both to deliver solutions that enhance the reliability and performance of the world's largest directories, computer systems, and the mission-critical applications that access them. Both IBM and UltraDNS are committed to Afilias in binding SLAs that guarantee 100% network uptime and 99.999% DNS availability. (These SLAs are available for ICANN's inspection if desired.)
As noted in our proposal2, the 99.73% availability for DNS in Section C28 is for any single name server. In the event that any one individual name server fails, the redundancy and failover mechanisms within our managed DNS architecture will automatically and immediately take over, assuring a 99.999% availability level for DNS.
ISOC is a clear leader among all the .ORG applicants in service level metrics. To this point, we would like to draw the evaluation team's attention to the highest levels of registry service performance metrics that we have committed to3, in comparison with the Service Levels from the other applicants4.
Comparison of Service Levels Across .ORG Registry Applicants
| | | | | | | | | | | | |
| --- | --- | --- | --- | --- | --- | --- | --- | --- | --- | --- | --- |
| SLA's | ISOC | NeuStar | GNR | Unity | IMS | UIA | DotOrg | .Org | Organic | Reg. Org. | SWITCH |
| SRS | | | | | | | | | | | |
| Transform Response Time (sec) | 0.8 sec | 3 sec | 3 sec | 4 sec | 3 sec | 3 sec | 0.8 sec | 3 sec | 3 sec | 0.8 sec | 5 sec |
| Query Response Time (Sec) | 0.4 sec | 1.5 sec | Data Not Found | 4 sec | 1.5 sec | 3 sec | 0.4 sec | 3 sec | 3 sec | 0.4 sec | 3 sec |
| Planned Outage / Month (hrs) | 8 hrs | 8 hrs | 8 hrs | 8 hrs | 8 hrs | 8 hrs | 2.67 hrs | 4 hrs | 8 hrs | 2.67 hrs | Data Not Found |
| Extended5 Planned Outage / Qtr (hrs) | 0 hrs | 18 hrs | 36 hrs | 18 hrs | 4.5 hrs | 6 hrs | 3 hrs | 0 hrs | 24 hrs | 3 hrs | Data Not Found |
| | ISOC | NeuStar | GNR | Unity | IMS | UIA | DotOrg | .Org | Organic | Reg. Org. | SWITCH |
| DNS | | | | | | | | | | | |
| Update Freq. (min) | 15 (<5 min actual) | 15 | Data Not Found | 15 | 5 | Data Not Found | 5 | 15 | Data Not Found | 5 | 15 |
| Cross Network NS Perf. (ms RTT) | 300 | 300 | 300 | Data Not Found | 300 | 300 | Data Not Found | 300 | Data Not Found | 300 | Data Not Found |
| | ISOC | NeuStar | GNR | Unity | IMS | UIA | DotOrg | .Org | Organic | Reg. Org. | SWITCH |
| WHOIS | | | | | | | | | | | |
| Response Time (sec) | 0.8 sec (0.2 sec actual) | 1.5 sec | 1.5 sec | 1.5 sec | 1.5 sec | 1.5 sec | 0.8sec | 1.5 sec | 1.5 sec | 0.8sec | 6 sec |
| Planned Outage / Month (hrs) | 8 hrs | 8 hrs | 8 hrs | 8 hrs | 8 hrs | 8 hrs | 2.67 hrs | 4 hrs | 8 hrs | 2.67 hrs | Data Not Found |
| Extended5 6 Planned Outage / Qtr (hrs) | 0 hrs* | 18 hrs | 36 hrs | 18 hrs | 4.5 hrs | 6 hrs | 3 hrs | 0 hrs | 36 hrs | 3 hrs | Data Not Found |
2) SRS failover time and performance of the secondary data center
The SRS system for .ORG will be based on the same stable, redundant infrastructure currently in use for .INFO6. A well thought-out, methodical and swift recovery procedure for many different types of SRS events – ranging from slow performance, through the total destruction of all data centers – has been described in our proposal7, and reflects procedures currently in existence for the .INFO registry. This greatly reduces the risk of failure within the SRS, or any other part of the registry system.
In the event of a planned outage of the primary data center, PIR's SRS system would be switched over immediately to the secondary site8. As our proposal states, registrars may notice a brief degradation of service while their SRS clients re-connect to the secondary site. This effect, we believe, would apply to all applicants for the .ORG redelegation.
A major unplanned outage, such as a catastrophic disaster at the primary location, would activate the same SRS failover procedure, as outlined in Section C17.16.1. Since there would not be any advance notice of the outage to registrars, they would need to be contacted immediately to redirect their SRS clients to the secondary site. Our contingency plans ensure that all registrars will be contacted in as timely a fashion as possible in this unlikely event.
It is also important to note that a failure in the SRS system does not impact the ability to resolve existing .ORG domains in any way. In such an instance, PIR will remain able to keep its commitment of providing the highest levels of DNS availability.
3) SRS database architecture
The SRS database structure, schema, and procedures in our proposal have been designed to ensure a smooth transition of .ORG from the current registry operator. Afilias, with nearly one million names under management, has clearly demonstrated its ability to manage and maintain a large database in a scalable manner. As of June 18, 2002, the SRS database at Afilias contained over 12 million records, and supported the full range of domain name transactions required by registrars.
The proposed SRS database for .ORG will reside on production grade high-availability Sun Microsystems hardware , and will be connected to the network in a fully-redundant fashion, with automatic failover in the event of a network component failure.
In order to provide a clearer understanding of the fault-tolerant structure and redundancy of our database services, we have reproduced Figure 3910 from our application. This figure, which shows the system and database architecture of the WHOIS system, is also representative of the design and architecture of the overall SRS system, and was included in the original proposal for this purpose.
In addition to a strong and stable database system, ISOC believes that competent technical leadership in database design and operations is critical in the smooth operation of the SRS database, the heart of any domain registry. Afilias draws upon the skills11 of its experienced management team, including Andrew Sullivan, the company's Senior Database Architect, who brings strong knowledge and experience in database design, development and deployment. Andrew is an active participant in various Open Source database projects, including PostgreSQL, and is an acknowledged expert in both database design and database operation.
The current configuration for the SRS database in the .INFO registry clearly demonstrates that the RDBMS has sufficient capacity12 to handle a 200% growth in the .ORG namespace13, with over 2,000 gigabytes of storage capacity14, and the ability to handle over four times the current .ORG sustained transaction loads15.
Figure 39: ORG Database Architecture
http://www.icann.org/tlds/org/applications/isoc/section3.html#c17.8-7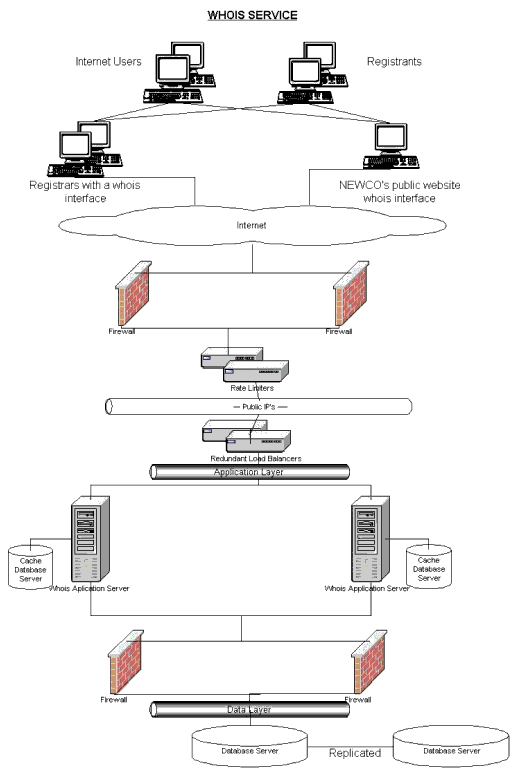 4) Staffing and training plans for the .ORG transition
A significant portion of the task of transitioning the .ORG domain will be handled by PIR's partner, Afilias. One of the benefits for ISOC of working with Afilias is that it has existing capacity and staff to support the transition and ongoing technical operations of the .ORG registry.
The transition team will be lead by Ram Mohan, Afilias' VP of Business Operations and CTO, who has been involved with building and directing successful multi-functional teams for over 10 years. Ram has built strong Technology, Customer Service and Registrar Relations teams at Afilias. These teams are led by Howard Eland – Senior Technology Architect; Michael Young – Director of Information Technology, and Andrew Sullivan – Senior Database Architect. In addition to this leadership team, we also have over 20 highly qualified, experienced staff. While we anticipate that there may be a need to supplement the core staff with a few additions, we are confident that we have the right team already in place to ensure a successful transition.
With respect to registrar training and education, Afilias is both skilled and experienced. As the registry that pioneered the first implementation of an EPP-based gTLD registry, the success of the .INFO domain was directly tied to Afilias' training and education of registrars in the new technology. In addition, Afilias has led numerous training and planning sessions for registrars, including, most recently for the successfully concluded Land Rush 2 name distribution process. Similar training processes are described within the transition plans in the proposal.
5) PIR vs. Afilias roles
As detailed in our proposal, PIR will have general management and policy responsibility for the registry while Afilias manages the technical aspects under contract to PIR. Beginning with contract negotiations (should the ISOC bid be selected) PIR will provide overall registry leadership. This includes .ORG strategy and priorities, policy implementation, management of the PIR website and its new community input mechanisms; establishment of the .ORG Advisory Council; decisions on the proposed new services such as product definitions and how and when to introduce them; and the management of financials, reporting and other activities ICANN may require.
Academic CIO Team Evaluation:
Criteria: 1 (stable registry), 7 (services), 8 (protocol changes support), 9 (transition)
The international group of CIOs also focused on technical aspects of the bid, but used a different methodology and operated independently of Gartner. The CIO team's report judged ISOC to be a "High Ranking Proposal," one of only two it judged that "could definitely operate the registry successfully." The evaluation team stated that our bid demonstrated:
"Very solid technology, technology plan, and technology staff with strong likelihood of stable registry operation during the life of the agreement." The partner (Afilias) "…has a demonstrated ability to operate a large, global registry."
"A strong business and organizational model. Organization appears well prepared to operate registry without significant organization risks."
ICANN General Counsel Report:
Policy Adherence, Competitive Impact, and Endowment Eligibility
The General Counsel report addressed policy adherence, competitive impact, and endowment eligibility, and judged ISOC to be in the top tier for all three.
The competitive criterion is especially important, given the magnitude of the .ORG domain and the ICANN core principle of encouraging "…competition in the provision of registration services at both the registry and registrar levels." We believe that it is key for ICANN to select a manager that can successfully build .ORG to its full potential and enable it to compete effectively with .COM and .NET as well as the other TLD's. The ISOC proposal is uniquely attractive because it combines the perspective and experience of the Internet Society with Afilias' demonstrated ability to build and manage a domain in an economically sustainable and stable manner. These attributes will fuel the revitalization of .ORG and enable PIR to foster new levels of competition within the industry overall.
We are happy that the staff and evaluation teams recognized the strength of our proposal. "…the ISOC proposal is the strongest and most balanced proposal overall."
ISOC's proposal brings the best technical capacity to .ORG through its back-end service provider Afilias, who has unmatched experience in running and operating a large-scale, EPP-based, gTLD registry (.INFO). We will modernize .ORG with new technical standards by upgrading the registry system to support the new, faster EPP protocol and by reducing registration to resolution time from hours to minutes. In addition, the proposal includes new registry services such as name locking, site linking, directory, and ID certification designed to deliver tailored, valuable services to meet the unique needs of .ORG registrants. Our proposal ensures that .ORG will remain stable and secure during and after the transition to the new registry operator.
ISOC's proposal also clearly outlines a plan to revitalize .ORG. Based on our own expertise in the Internet and non-commercial communities, we will further .ORG's heritage as the home of non-commercial organizations on the Internet. This plan includes the new services noted above plus a global marketing and public relations program focused on educating non-commercial organizations on the uses of the Internet. It further incorporates new community input mechanisms such as a .ORG Advisory Council and various Web-based tools and features. These will allow .ORG registrants to have a role in the management of .ORG that is absent today.
Overall, we believe ISOC's experience as a not-for-profit, Internet-focused organization, combined with Afilias' expertise as a stable and proven back end provider, enables us to fully meet all the criteria set forth by the ICANN Board.
In summary, we thank the ICANN staff and evaluation teams for their diligence, especially given the tight timetables involved, the complexity of the evaluations, and the importance of this project. We remain committed to our proposal, and look forward to helping make .ORG a stable and secure home for the non-commercial community on the Internet.
Sincerely,
Lynn St. Amour
President and CEO
Internet Society
---
1. Ref. ISOC Application, Sections C12, C13, Contracted Service Providers
2. Ref. ISOC Application, Section C17.13, C17.28
3. Ref. ISOC Application, Sections C28, Figure 54, Figure 55; Appendix N
4. Ref. http://www.icann.org/tlds/org/
5. Planned Outage Time can be used as Extended Planned Outage Time; the total planned outage time per period is the sum of Planned Outage and Extended Planned Outage.
6. Ref. ISOC Application, Section C17.14.2, C17.16.2
7. Ref. ISOC Application, Section 17.16.1 – 17.16.3
8. Ref. ISOC Application, C17.16.1
9. Ref. ISOC Application, C17.3.3
10. Ref. ISOC Application, Section C17.8-7
11.Ref. ISOC Application, Section C15 B
12. This estimate is based on the reports provided by VeriSign, available at http://www.gtldregistries.ORG/reports/2002/apr/index.html/, and referenced in the ISOC application.
13. Ref. ISOC Application, Section C17.3c
14. Ref. ISOC Application, Section C17.3a
15. Ref. ISOC Application, Section C17.10.2 b ii
---
Comments concerning the layout, construction and functionality of this site
should be sent to
webmaster@icann.org
.
Page updated 30-Aug-2002
©2002 The Internet Corporation for Assigned Names and Numbers. All rights reserved.