NeuStar plans to provide a comprehensive service offering for the .org registry that will ensure the ongoing stability of the name space for both its registrars and its registrants.
The administration of a high-quality, public resource that ensures stability for both registrars and registrants is at the core of NeuStar's realm of experience. We have a legacy of providing the numerous functions and services that are required to support a registry operation, including technical management of TLD databases, providing many types of support to our channel partners, and participating in and actively supporting ICANN. We will provide a comprehensive suite of standard registry services leveraging our existing Internet registry infrastructure, channel relationships, support staff, and management.  Additionally, we will work with the ICANN and the .org Global Policy Council to enhance the utility of the .org namespace to review other possible registry services, those beyond the provisioning of domain names.
Standard registry services
There are several key components of registry services: the registration of names (to add, modify, transfer, or delete domain names), administration of nameservers and zone files, Whois database administration, data escrow, registrar integration and support, website administration, documentation, registry reporting, help desk support, and participation in global industry organizations. Each of these services, shown in Exhibit C25-1, represents an equally important facet of managing a highly stable and reliable registry infrastructure, and is detailed below.  For detailed descriptions of technical functionality, please see Proposal Section C17.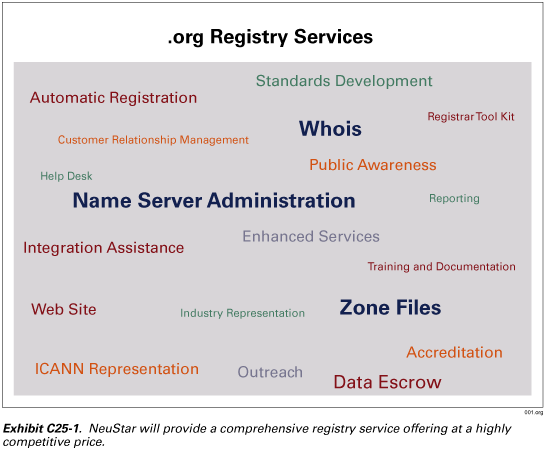 .org Nameserver and .org zone file administration—NeuStar's registry architecture is designed to be flexible, scalable, and have the highest availability, all of which will virtually eliminate downtime while providing for smooth growth. Redundant data centers in Sterling, Virginia, USA and Chicago, Illinois, USA ensure high service availability, while dynamic, near real-time updates of zone file data provides up-to-date, authoritative responses from the six global .org nameserver's (which will expand to eight over time, after award of the .org contract).
Whois database administration—NeuStar will provide global Whois database services utilizing our existing enhanced Whois server software and database generation tools. NeuStar's existing Whois system provides high capacity Web-based and port 43 interfaces to this enhanced Whois database. The Whois server software will support the existing capacity required for providing global Whois queries in addition to allowing advanced searching capability, freely available to the public.
Data escrow—NeuStar will arrange frequent data escrow (with an agent approved by ICANN) of the .org registry, to maintain continued operations and availability in the unlikely case of a catastrophic loss of data.
Registrar integration and support—NeuStar will implement an operational test-and-evaluation facility and provide registrars with Registrar Tool Kit software identical to the one used by registrars at the time of transition from VeriSign to the NeuStar registry.
Website administration— NeuStar will develop and maintain a web site that will provide access to registry toolkits, information to the .org Internet community, links to Whois information, and other relevant information with the management and use of the .org name space.
Customer support—NeuStar's enterprise-wide CRM program assists with channel management and outreach for .org. We use CRM in combination with our extensive market and customer knowledge to ensure that we meet our commitment to timely, responsive, and high-quality customer service.
Documentation and training—NeuStar believes that clear, concise documentation and training for our staff and our customers is essential to provide the best service to those customers. NeuStar's external documentation, from our toolkit data to our information on marketing .org, are intended to give our customers the highest level of comfort when working with the .org registry.
Registry reporting—NeuStar's Web-based reporting system will have built-in functionality to provide reporting information to registrars on all aspects of their interaction with the registry.
Help desk support—NeuStar will provide 24x7x365 Help Desk services in multiple languages through our Customer Service Center to all .org registrars.
Industry representation—NeuStar's involvement with Internet standards and policy organizations will contribute to our operation and development of the .org registry. This intimate knowledge will prove helpful to Registrars during migration to new registry standards and protocols. Additionally, our staff will actively participate in the .org Global Policy Council.
Other registry services
In addition to these core registry services, NeuStar will offer products that utilize integral parts of the registry that will benefit the noncommercial Internet community. Each of these services will be tailored to the intended users of the .org TLD in an effort to help them reach their audience and spread their message. We will work with the .org Global Policy Council and with ICANN to refine product and service ideas and finalize pricing for each.
These additional registry services include:
.org name recovery program—A significant number of .org users are not able to register their domain names because they are registered to commercial companies.  In some cases, these names are not in use.  It is also true that some of the commercial registrants of these names did not register them to prevent noncommercial organizations from doing so, but rather for the following reasons: to keep the name out of the hands of competitors, to prevent violations of their intellectual property rights, to prevent use of the name to disparage their reputations, or keep the name away from speculators.
The proposed .org Name Recovery Program (NRP) provides a completely voluntary mechanism for commercial companies to relinquish these names directly to the corresponding noncommercial registrant while avoiding the issues outlined above now and in the future. 
Under the .org NRP, commercial users agree to transfer a .org domain name directly to a specified original or donating registrant.  The .org NRP provides a mechanism for preventing future use of a recovered .org name by any registrant other than the entity specified by the registrant. The noncommercial recipient of a recovered name would not be permitted to subsequently transfer the name to another registrant without the expressed written permission of the original commercial registrant.  In addition, in the event that the noncommercial organization allows the name to expire, the commercial entity would then be given first right of refusal on the name.
NeuStar proposes to support and administer the .org Name Recovery Program as a complimentary service to the .org community subject to .org Global Policy Council review and endorsement, and ICANN approval.  NeuStar understands, however, that there are a number of operational details and potential challenges associated with establishing the NRP and is prepared to work collaboratively with the Internet community to ensure any issues are adequately addressed, prior to submission to ICANN.
Enhanced Whois services—NeuStar will provide a free Whois service that allows single queries for domain names that matches the functionality of VeriSign's existing .org Whois service.  Additionally, NeuStar will provide an Enhanced Whois service to benefit domain name holders.  Enhanced Whois is NeuStar's service that allows end users to submit criteria for searching a string or sub-string in up to three fields in the Whois database. Enhanced Whois facilitates trademark research, dispute resolution, domain name management, and domain research- related activities. After credit card payment, abbreviated search results are displayed on-screen and full results are forwarded to the purchaser via e-mail (in .csv format). Links to Enhanced Whois will be available from registrars' sites, and the registry Whois site. Enhanced Whois will allow Internet users of all skill levels to use several search fields to easily locate and store .org domain name records. The Enhanced Whois will be used to provide custom-created domain reports for business users and domain holders. Also, Enhanced Whois will enable businesses to protect its intellectual property (trademarks, service marks, etc.) on the Web.
Internationalized domain names—The incumbent, VeriSign, has been maintaining a test bed for Internationalized Domain Names (IDN). The incumbent implementation is based on the currently proposed IDN Working Group Internet draft, the encoding schema known as Row-based ASCII-Compatible Encoding (RACE). Currently, there are .org domains that fit this designation. Any successor operator must develop a solution for supporting these names from VeriSign. NeuStar is currently participating in standards development for IDN. 
NeuStar's experience providing global mission-critical registry services to both the Internet and telecommunications industry uniquely positions us to understand the complexity and critical nature of each discrete role we must perform. We will provide all systems, software, hardware, facilities, infrastructure, and operations to globally support these functions.