As requested we have included NeuStarís recent financial results Ė an income statement for the fiscal (also calendar) years of 2000-2001, and a year-end balance sheet for 2001.†† These statements represent the consolidated financial results for NeuStarís two lines of business Ė Numbering and Internet Registry.
As noted in our company description (Section C10) and in our qualifications (Section C15) of our Proposal for Reassignment of .org, NeuStarís Numbering business has provided the foundation for NeuStarís growth.† The Numbering line of business has been and continues to be profitable and generates positive cash flows, which the company has used to improve service and performance in its Numbering business and in 2001, to launch two new businesses.† In 2000, 100% of the revenue and approximately 85% of the expenses were attributable to the Numbering business.† The remainder of the expense dollars were spent in pursuit of two new businesses launched in 2001.
As a result of securing customer contracts and closing additional financing NeuStar expanded its Numbering business and launched the Internet Registry line of business in 2001.
NeuStar raised over $82M of incremental financing in 2001, ending the year with a cash balance in excess of $33M.† The financings consisted of a second round of equity investments by Warburg Pincus, DB Capital and ABS Capital Partners in addition to a receivables securitization (please refer to the attached letters for additional information regarding their investments in NeuStar).†† In total, NeuStar has raised over $130M of cash equity since its divestiture from Lockheed Martin in 1999.
Using internally generated and externally raised funds, NeuStar funded the build out of the OSS/CARE Clearinghouse (CARE) in the 1st quarter of 2001.† NeuStar also funded the design, development and implementation of the Internet Registry business starting in the 1Q of 2001.† Each of these businesses (CARE and Internet Registry) began to generate revenue in the 3rd quarter of 2001.†† Therefore, the income statement includes 12 months of startup and operating costs for these new businesses that generated revenue on only a partial year basis in 2001.
Many of the expenses and cash uses of 2001 were one-time efforts to develop and launch the CARE and Registry† businesses, and do not indicate a run-rate for expenses or use of cash into 2002.† The company expects to be EBITDA positive in 2002 and Net Income positive in 2003.†† NeuStarís strong balance sheet and the expected positive cash flows from operations in 2002 will provide opportunities to raise additional debt financing if needed in 2002.† NeuStarís financial highlights include the following:
Strong, profitable, cash generating base business;

Strong balance sheet;

Continuing support from equity stakeholders who have additional cash to invest if needed; and

Access to additional capital market financings.
---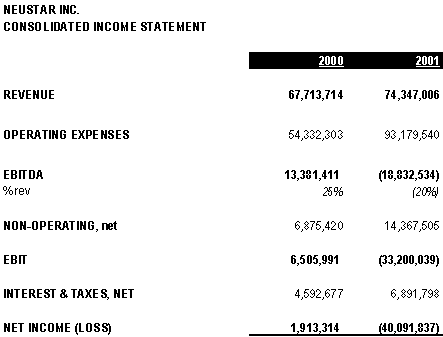 ---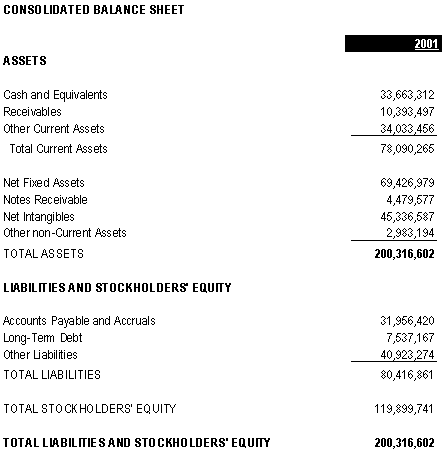 ---
Evidence of financial support (pdf 7,991 kb)