Donna Austin, Office of the COO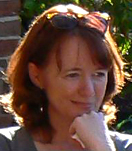 Donna joined ICANN in February 2005, in the ccNSO Policy Support role which she held until April 2007. She has more recently taken on the role of Manager — Governmental Relations which includes being the GAC Liaison. She has also supported the Nominating Committee in 2005, 2006 and again in 2007, and is the project manager for Accountability Framework discussions with ccTLD managers.
Prior to joining ICANN, Donna had a long career in the Australian Commonwealth Public Service undertaking a range of policy and program positions including managing two grants programs in the Broadcasting Division of the Department of Communications, Information Technology and the Arts. In 2001/02 Donna represented the Australian Government as the Coordinator of the GAC.
Donna is an Australian national with a Bachelor of Arts in Office Management and has also undertaken post graduate studies in public policy.