Tina Dam, Senior Director, IDNs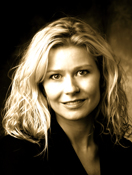 Tina serves as Senior Director, IDNs, where she develops and manages all IDN related projects at ICANN. In particular with focus on the implementation of processes such as the IDN ccTLD Fast Track Process and the new IDN gTLD Program that will enable deployment of internationalized top level domains.
Tina joined ICANN in 2003 as Chief gTLD Registry Liaison, where she was responsible for developing ICANN's gTLD Registry functions including defining, managing, and implementing processes in accordance with consensus policies and ICANN agreements for servicing the gTLD registries.
Prior to ICANN she worked with several companies in the DNS community, including ICANN-accredited registrar Ascio Technologies (formerly known as SpeedNames) where she oversaw the launches of the .biz, .info, and .name top-level domains, and managed the development of all related internal and external products and product marketing materials. Prior to Ascio, Tina was Systems Architecture Engineer at Navision Software a/s, establishing the architecture design of the company's next generation of products.
Tina holds a Master of Science in Mathematics and Physics from the Aalborg University in Denmark and a BBA in Marketing Management and International Trade from Copenhagen Business School.
Email: dam@icann.org