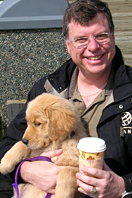 Frank is the inaugural ICANN Ombudsman. He has been the Ombudsman since November 2004.
Frank holds a Doctor of Conflict Resolution (DCR) from La Trobe University, Melbourne. Frank is also an alumnus of the University of Manitoba, University of Regina, and Royal Roads University where he earned a Master of Arts in Conflict Analysis and Management. Frank has taken training as a negotiation instructor at the Program on Negotiation at Harvard Law School. Frank is an associate faculty member of Royal Roads University, and is a Fellow with the Centre for Information Technology and Dispute Resolution at the University of Massachusetts - Amherst.
As the Ombudsman, Frank is a member of the International Ombudsman Association, the Forum of Canadian Ombudsman, the International Ombudsman Institute and the United States Ombudsman Association. Frank has served as Chairman of the International Forum on Online Dispute Resolution.
Frank was previously employed with the United Nations, where he was on Mission Staff in East Timor for two years. He was the deputy administrator for the capital city, and was appointed as the UN's Olympic Games Officer, taking the world's newest country to the Sydney Olympics.
Frank's professional background includes being an Ombudsman Officer with the British Columbia Ombudsman's Office; Senior Advisor with the Financial Consumer Agency of Canada; Saskatchewan Social Services, and as a Policing Policy Advisor to the BC Attorney General. Frank began his career as a member of the Royal Canadian Mounted Police.
Frank is involved in volunteer activities, such as the Canadian Olympic Committee; Olympic, Commonwealth and Pan American Games; and the Royal Life Saving Society. He is the co-author of, "Prayer Road", a book about the Olympic Games and East Timor.