Craig Schwartz, Chief gTLD Registry Liaison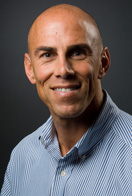 Craig Schwartz is ICANN's Chief gTLD Registry Liaison. In this capacity he is the primary point-of-contact for providing service to ICANN's gTLD registry business partners.
Craig joined ICANN in 2006, after working for ten years at a public relations and strategic communications firm in Washington, DC. He most recently served as Vice President of Operations which included managing relationships with internal and external customers.
Prior to his time in public relations, Craig worked in public affairs at Youth for Understanding (YFU) International Exchange — an organization committed to fostering global understanding by facilitating student exchanges at the high school and community college levels. Craig actively conducted cross-cultural training workshops for program participants, in their home country, prior to departure to the United States.
When Craig isn't working he enjoys spending time with his five nieces and nephews, health and fitness activities, reading and traveling.
Craig earned his Bachelor of Science degree in Finance from the University of Maryland.