Pablo Hinojosa, ICANN Global Partnership - Latin American Liaison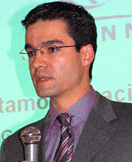 Previous to joining ICANN, Pablo was Director for Multilateral Affairs in the Mexican Federal Telecommunications Commission (COFETEL). As a government official, he was the Representative from Mexico at ICANN's Governmental Advisory Committee (GAC), where he held the positions of Vice- Chair and Convener of the Working Group on ccTLDs. He has attended numerous ICANN meetings since 2001.
Pablo was part of the Mexican delegation attending WSIS and also Advisor to the Chair of the Asia-Pacific Economic Cooperation Telecommunications and Information Working Group (APEC-TEL). He has also experience in other fora such as the Organization for Economic Cooperation and Development (OECD), the Latino-American Telecom Regulators Forum (Regulatel), the World Trade Organization (WTO), and Inter-American Telecommunications Commission (CITEL).
Pablo has a bachelor degree in Political Science and International Relations and a masters degree in IT Management.