Liz Williams | Senior Policy Counselor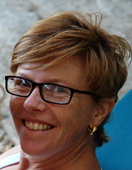 Dr Williams has been working in the Internet industry since the early 1990s and now leads on ICANN's policy development activities on the introduction of new top level domains and policies for contractual conditions. She has worked extensively in developing countries particularly in Vietnam, Cambodia and Laos and in the Pacific on Internet governance and country code management.
She is a former Deputy Chair of the .au Domain Administration Board of Directors (www.auda.org) and has worked across the ICANN registrars' and registries' constituencies on a wide variety of policy issues. In an earlier phase in her career, she spent several years in Australia's Federal Parliament working on telecommunications issues, health policy research and environmental issues.
Dr Williams is an international affairs specialist with a doctorate in information technology and law on the globlisation of regulation and its impact on the domain name system (http://www.lizwilliams.net/academic/phd_abstract.html) and a masters in communication on regulating the Internet and privacy protection (http:// www.lizwilliams.net/academic/ma_abstract.html).
She is an accredited Australian Company Director, a member of the Australian Internet Industry Association and the Internet Society. Based in Brussels with her family, she enjoys gardening, horse riding and collecting Japanese ceramics.