Joint SO/AC Public Meeting
Date:
Mon 02 Mar 2009 -

14:00

-

17:30
Room:
Don Alberto 2-4 (Main Room)
What it is | A discussion among selected members of each of the
Supporting Organisations and Advisory Committees. Each SO and AC will designate up to four people in order to represent a range of perspectives.
Why it's important | The objective of this "ACSO" session is to share views and perspectives on common issues in a way that will inform the discussions within those groups during the week.
Who should attend? | All attendees are invited to attend and listen in to the discussions. A feedback session at the end of the meeting will enable community members to provide reflections and ask questions.
Agenda details:
Moderator: Patrick Sharry, ICANN
SO and AC members to be named.
There will be two broad discussion topics of common interest, with specific sub-questions. They are:
14:00-15:30 -- EXPANDING THE NAME SPACE
- What is the impact of the new gTLD and IDN Fast Track processes on the
market structure of the Domain Name Space and ICANN's processes?
- How should geographic names be handled and is there a blurring of "cc" and "g" spaces?
- What should be the cost and the pricing structure for new TLDs (both application fee and ongoing fees)?
16:00-17.30 -- IMPROVING POLICY DEVELOPMENT
- What do we mean by "policy development"?
- How can technical expertise and input from stakeholders be included early in the process?
- What changes, if any, could be made to ICANN's processes to allow for more effective policy development?
See below for a video, presented by the session moderator about this joint session
These topics were chosen by the Chairs of the SOs and ACs after
consultation with their members. The objective in each session is to
have an open discussion rather than statements of official position, in
order to foster a common understanding within the community. These
sessions will not take decisions nor does the group represent a
decision-making body.
Sessions will be public and transcribed, but they are not a public
forum. Opinion will however be sought during the discussion through the
use of coloured cards to represent whether people agree or disagree
with a particular comment or proposal put forward. A feedback period
will follow at 1730 where members of the community will be invited to
comment on any of the topics discussed in the previous two sessions.
Please note that the session and its format remain experimental in
an effort to improve discussion and interaction between Supporting
Organizations and Advisory Committees. As such, not only do we expect
to learn from the session in Mexico but we will be seeking feedback
from the SOs and ACs themselves after the meeting is over in order to
identify improvements for ICANN's next meeting in Sydney in June.
---
FEEDBACK (40 questionnaire responses)
Q1. What added value did the meeting offer you? (Choose more than one answer where appropriate)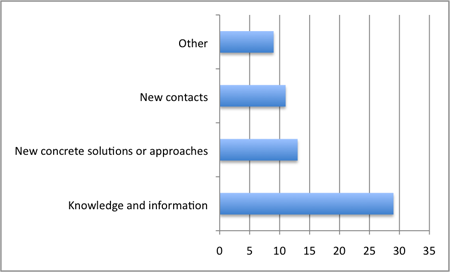 Comments:
• Interesting discussion and to different views / New form of interaction between constituencies
• A quantitative perspective on various views
• Better common picture
• Understanding
• A possibility for "shy souls" to flag their view their coloured paper
• Innovative approach keep on improving
• Hearing opinions and views of other countries
• Rejuvenated debate
• See various participants give their opinions
---
Q2. Were the issues discussed and covered satisfactorily?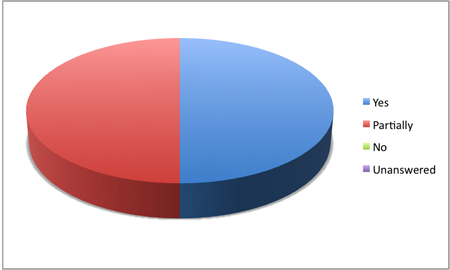 Comments:
• The subjects are large and take time - can't discuss everything in one-and-a-half hours
---
Q3. Were you satisfied with the overall agenda of the meeting?
Comments:
• Didn't think it [the agenda] was addressed
• Great improvement from last time but can be better
---
Q4. Are you satisfied with the outcomes of the workshop/meeting?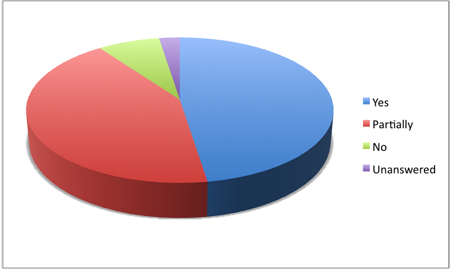 Comments:
• Met a couple of guys from ICANN At Large
• A good start, but a long way to go
• I'm not sure what they are [the outcomes]
• Open mic session at end didn't work, but otherwise great!
• No concrete results
• Opinions were expressed with many wrong facts
---
Q5. Are you satisfied with your own involvement in the meeting/workshop?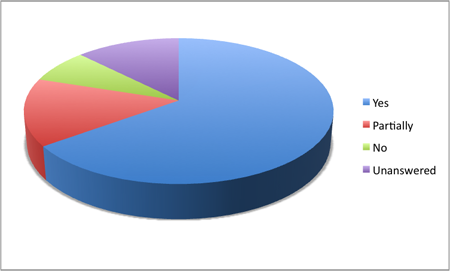 Comments:
• I made a comment on top of actually getting here
• People who will not speak are able to show their views with the coloured cards - good - increases participation
• Lack of open-mic time
• The sheet-colour system worked out pretty well; much more than it would if the audience had an open microphone
• It was necessary to understand ICANN a lot [to get involved]
---
Q6. Were you satisfied with the quality of the speakers?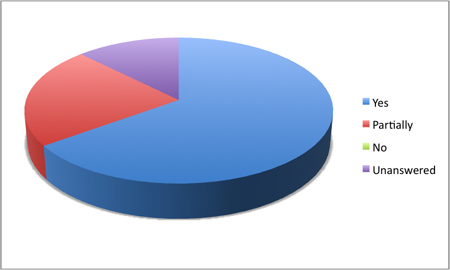 Comments:
• All had vested interests - need more elected representation
• Good conduction by Patrick
• Liked roundtable format and positive respectful tone set by moderator - appreciate the moderator
• ICANN needs to choose if it wants speakers who have the authority, knowledge and experience to talk about what they are talking about
---
Q7. What format of the meeting do you consider as being most effective?
• Thought it worked as well as any although despite stressing need to listening only limited time given for questions
• PDP
• Openness
• Public roundtable, Ok
• We need to take conclusions
• Joint sessions
• Multistakeholder panellists and each represented >1
• Open discussion
• Put speakers on the stage. Nobody can see them in the middle of the room
• Moderator is excellent, panel is good but more share of audience is needed
• More time to audience microphones
• Facilitation and coloured papers
• Interactive
• Workshops
• Panel discussion + Question & Answer
• This format was good
• Panels
• More time, same format
• Holding up the green, red papers to indicate whether or not one agrees is helpful and informative in communicating one's opinion. It makes the whole experience more human and instant
• Open and roundtable
• This is a good format - but some speakers were better than others
• At Large Summit
---
Q8. Are you satisfied with the information available for the meeting?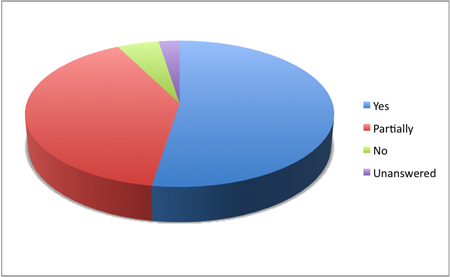 Comments:
• Needs definition of terms esp. acronyms: AC/SO? GNSO? Etc
• Too much information in too many pages
• Some background paper
• More communication on purpose of meeting
---
Q9. What is your overall rating of the event?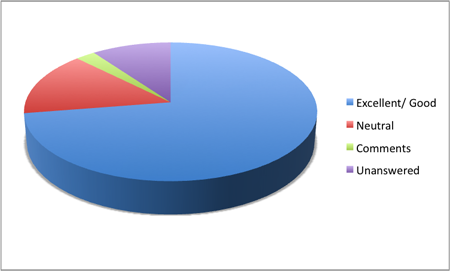 Comments:
• So far so good
• I like the openness and innovative approach
• Too little time for public comment
• The mix of speakers was uneven
---
Q10. What improvements could be made for next time?
• Provide more advance notice
• Additional topics and more time
• Take 5 mins to reach conclusions or action plans
• More of such conversations and interactions at meetings
• Each panellist should make CONCISE remarks, so that more time spent on an attempt to create/develop convergent views
• 1. More time for public comment. 2. Reintroduce one wired public mic with an old-fashioned queue
• Maybe only one hour and one open comment session afterwards for all of the general community
• Just to add something: maybe some sort of pool on theme-selection for each section to get to know the public's main interests. But naturally the themes for this first one were precisely chosen
• Balanced timeslots to audience as speakers
• Faster open mike session
• Should have group discussions and present the findings
• Perfect!
• Focussed sessions with tracks
• More time for comments
• Written questions from the audience to panel
• More meetings should be held in this format
• Vet speakers and choose experience and fact over opinion
• Exchange between different constituencies and At Large community
• A program less complex and clearer
---
Q11. Other thoughts you would like to share?
• Provide further information (glossary) for lay people
• A really first class forum
• This effort should be sustained and should be more organised and structured
• GAC advisory status / ICANN relationship with other JOs, mainly with ITU. Congratulations
• Introducing new faces is important. Each session should grab new speakers, mix of experienced and non-ICANN experienced
• Split into groups
• More remote participation, more explanation of how ICANN works
• Superb moderation by Patrick
• If this was a film, I would give it 5/10: watch it only if you have nothing else to do