Welcome to the May issue of ICANN's magazine. Each issue covers the latest news and events, plus outline how you can interact with the organization.
The magazine also hopefully gives you an insight into the upcoming month, including the upcoming meeting in Paris between 22 and 26 June. This issue is also slightly different in that two parts of it -- the Policy update and the Compliance section -- are previews of new newsletters that we produce each month.
The hope is that, no matter which part of ICANN you are interested in, this magazine will act as an entry point and make people more aware of the other work that the organization carries out every month.
ICANN makes decisions that directly affect all those that use the Internet, whether governments, businesses or individual Net users.
We help coordinate the names and numbers that are vital to producing one globally interoperable Internet. Our decision-making processes are open to all and we welcome all those equally passionate about how the Internet evolves.
Links
Policy Update
Policy highlights this month include:
Domain Name Tasting
The GNSO Council has approved a motion for dealing with domain name tasting (when an entity registers a domain name and then tests to see if the name has sufficient traffic to provide more income than the annual registration fee).
The motion is now pending Board consideration. Public comments were invited on the Council recommendation until 21 May 2008.
They have been been summarized for the Board, which will consider the GNSO motion and public input during its May or June meeting.
---
Anti-phishing
The SSAC has provided an Advisory called "Registrar Impersonation in Phishing Attacks" to registrars so they can review and consider the nature and priority of the threat.
Initial responses are positive and SSAC anticipates publishing the report to the general public at or prior to the Paris meeting.
Staff continues to assist with anti-phishing investigations of registrars who are alleged to be shielding phishing activities.
---
Whois
On 16 April, the Governmental Advisory Committee (GAC) offered an extensive set of recommendations for Whois studies.
The group reviewing such suggestions is producing a report which should be provided to the GNSO Council this month, possibly with rough cost estimates.
The Council will then decide what studies to go for, given available resources.
---
Fast Flux
A policy development process (PDP) has been formally launched on Fast Flux - a term that refers to several techniques used by cyber criminals to evade detection, such as rapidly modifying IP addresses and/or name servers.
A working group will be formed as a result. A charter for the group (including a schedule for public comment) will be presented this month for review.
---
IANA Working Group
The ccNSO IANA Working Group was set up with the goal to improve the service that IANA provides to ccTLDs.
The group is developing a DNSSEC paper to advise the ccNSO Council if a position should be taken on who should sign the root zone.
The Working Group has also been testing the new IANA interface for administrative changes in the IANA database, and drafting a work plan for the coming year.
---
To view more in-depth information on each of these issues plus:
GNSO Improvements
Domain name front running
IDN ccTLDs
ccNSO Improvements
At Large policy participation
ASO global policy proposals
DNSSEC router testing
Others
Please review the May Policy Update.
ICANN Board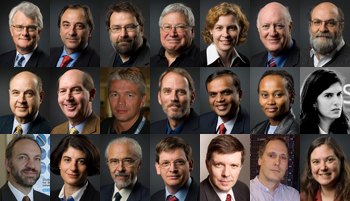 Recent Board meetings
The Board met most recently on 30 April, and will meet again on 29 May.
Each Board meeting is preceded by at least a week by a meeting of the Board's Executive Committee which decides the agenda.
Preliminary minutes of the most recent meeting can be found here. Highlights include:
Approval of changes to the .pro registry contract which allow it to expand to nine professions from the current four, plus other changes
A discussion on changing ICANN meetings, possibly moving from three to two meetings a year, hosting one in the same location, and increasing the number of smaller regional meetings
Cairo was approved to host the November meeting
Updates on the independent review process
Updates on new gTLD implementation - in particular the issue of dispute resolution processes
Redelegation of the .kn top-level domain
Creation of a new registry for electronic keys for the root zone
---
The agenda for the 29 May meeting has been posted. It includes:
The 2009 Budget
Meetings reform
RSSAC review
Board review
New gTLDs
Update on GNSO Improvements
Update on Whois
Review of GNSO Council motions on absentee voting and domain name tasting
RAA update
Addition of DNSSEC to .org
---
It is also worth noting that chairman Peter Dengate Thrush was re-elected by the ccNSO to serve on the ICANN Board.
---
You can view all past, current and future Board meetings, along with minutes and agenda on one webpage on the ICANN website at http://www.icann.org/minutes/.
Compliance
Whois
The Whois Data Problem Report System (WDPRS) was created by ICANN in 2002 to help registrars comply with their obligation to investigate Whois data inaccuracy claims.
WDPRS hit a problem in February when a sudden increase in activity from a single reporter caused the database to reach its maximum capacity.
The problem was solved, and the system is being improved and redesigned.
Connected to this, a company called KnujOn put out a report highlighting what it said were the 10 worst registrars because of the number of domains registered through their systems that were connected to spam.
ICANN responded, explaining that all the registrars in question had been contacted - most prior to publication of the report. A quick outline of ICANN's compliance system was provided.
---
Enforcement
ICANN received 1675 complaints in the first quarter of 2008. Sixty-one percent of them concerned issues that were not connected to contractual obligations, such as customer service.
The largest number of complaints regarded transfer of a domain (278); followed by reseller or webhost complaints (not actionable by ICANN); 207 about customer service; 178 about Whois; 134 about a domain name dispute, and a variety of other complaints.
ICANN has produced charts of complaints, as well as a comparison of complaints over time.
This month, ICANN also sent a notice of breach to registrar Red Register for its failure to comply with the Uniform Domain Name Dispute Resolution Policy (UDRP).
---
Audit
A recent audit of 901 ICANN-accredited registrars saw that 821 were requested to comply with Whois data requirements. The vast majority - 98 percent - complied.
Follow-up notices were sent where required and action has been escalated against those that have supplied insufficient information.
---
To view more in-depth information on compliance issues, please review the May Compliance newsletter.
Participation
Public comment
There is one comment period open at the time of writing, with three having closed, and three more opening and closing since the last magazine.
The comment period still open - until 17 June - is the Draft Operating Plan and Budget [pdf] for the 2009 fiscal year.
This is the end result of the six-month Strategic Planning process, and also, for the first time, includes a big effort to involve the community as early as possible in the process.
The headline is an increase in the total budget for 2009 from $42.6 million to $58.5 million. The Operating Plan and Budget explains where that money will be going and why.
You can review the paper and send in your views through the public comment page.
---
The public comment periods opened and closed in the past month are:
Absentee voting: a GNSO Council resolution modifying the bylaws to allow for those absent from a meeting to vote electronically
A DNSSEC implementation from PIR, the owner of the .org registry
Domain tasting: a second GNSO Council resolution, this time attempting to deal with the issue of domain name tasting (also, see above in the Policy section)
---
The public comment periods closed were:
---
Blog
A slow month on the blog, but one marked out by a very interesting issue that arose following the movement of the L-root to a different IP address.
The L-root is one of 13 locations where the Internet's root servers are located and is run by ICANN. Six months ago, ICANN informed the community it was moving the L-root IP address to a new one (partly in order to introduce a technology called Anycasting).
This month, the L-root stopped responding at that IP address. Or did it?
ICANN, among others, was very surprised to find that the old IP address was still answering queries as if it was still there.
After some investigation and some disagreement between root server operators, which gained increasing public awareness, ICANN's David Conrad wrote a blog post to outline what had happened and why.
It makes for interesting reading.
---
More details on participating with ICANN can be found at: http://icann.org/participate/
Other News
Multilingualism survey
As part of its Translation Programme, ICANN released an online survey on multilingualism this month in 11 languages.
It asked the community to report on their use of ICANN material, the experience of multilingualism within the organization's work, and what people felt about the main aspects of the translation programme.
The survey is online now and will be open until 20 June.
---
Iceland makes it 40
The Icelandic registry owners ISNIC signed an Accountability Framework with ICANN for .is, making it the 40th country code registry to formalize its relationship.
---
Cairo Meeting
Cairo was announced as the host for ICANN's Africa meeting in November.
---
You can sign up to this newsletter and the others ICANN produces at: http://www.icann.org/newsletter/.
Announcements
The following announcements were made in the past month:
May 08
20 May: Your Views Needed: Multilingualism in ICANN Survey
17 May: Draft Operating Plan and Budget posted
6 May: Iceland signs Accountability Framework
Apr 08
21 Apr: Request for Proposals (RFP) for an Independent Evaluator for the ICANN Board of Directors
---
A full list of announcements is available online at: http://www.icann.org/announcements/
What Does ICANN Do?
To reach another person on the Internet you have to type an address into your computer - a name or a number. That address has to be unique so computers know where to find each other. ICANN coordinates these unique identifiers across the world. Without that coordination we wouldn't have one global Internet.
ICANN was formed in 1998. It is a not-for-profit partnership of people from all over the world dedicated to keeping the Internet secure, stable and interoperable. It promotes competition and develops policy on the Internet's unique identifiers.

ICANN doesn't control content on the Internet. It cannot stop spam and it doesn't deal with access to the Internet. But through its coordination role of the Internet's naming system, it does have an important impact on the expansion and evolution of the Internet.