Venue & Hotels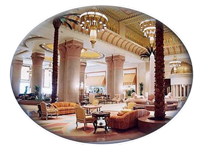 The Venue: InterContinental CityStars Hotel
InterContinental Cairo CityStars is located just seven minutes from Cairo International Airport and ten minutes from the Cairo International Convention and Exhibition Centre. The Hotel is part of the Middle East's largest retail and leisure complex, the new and exciting 780,000-square-metre CityStars Heliopolis development. Downtown Cairo is 25 minutes from the Hotel, and two championship golf courses are only 15 minutes away, while the famous Pyramids are a short 45-minute journey, which makes it a perfectly located venue for flexible leisure time as well.

Conferencing Facilities
As the winner of «Best Business Hotel in Cairo» for the second year by «Business Traveler», InterContinental Cairo CityStars offers 18 versatile conference and banqueting rooms, with floor space from 50 to 2200 square meters that can host a wide variety of events, from corporate gatherings to lavish social celebrations. Additional facilities include a fully equipped 24-hour Business Centre, state-of-the-art multimedia facilities as well as simultaneous translation facilities that could be arranged upon request.
The facilities offered by the venue simply provide the comfort and professionalism aspired for the ICANN working environment, and hence greatly contribute to the smoothness and success of the workflow, in addition to the ability to holding marvelous ceremonial and social events.
Special rates are offered to the ICANN meeting participants at InterContinental CityStars Hotel.
For more comfort of ICANN Delegates, adjacent to the venue is the 330 room Holiday Inn Cairo CityStars. The Holiday INN offers guests an intimate and sophisticated venue for both business and leisure. It has all the services and amenities guests want and the value they expect. Holiday Inn is the perfect choice for both business and leisure travel needs. With nearly 1,500 Holiday Inn hotels around the world, Holiday Inn remains the most popular hotel brand.
(Please note: Rooms at the group rates are completely SOLD OUT.)
InterContinental CityStars*****
OMAR IBN EL KHATTAB STREET • CAIRO
t +202 24800100 • f +202 24800200
ALI RASHID ST. • HELIOPOLIS • CAIRO
t +202 24 800500 • f +202 24 800556
65, ABDEL HAMID BADAWI STREET • PO BOX 5614 • HELIOPOLIS • CAIRO
t +202 26224000 • f +202 26226037
Sonesta Cairo Hotel & Casino*****
3, EL TAYARAN STREET• NASR CITY • CAIRO
t +202 22628111
The Baron Hotel****
PO BOX 2531 • PC 11361 HORRIYA • HELIOPOLIS • CAIRO
t +202 24199206 • f +202 24178595
51 EL OROUBA STREET • HELIOPOLIS • CAIRO
t +202 22905055 •f +202 22918591