Venue
Taj Palace Hotel
Sardar Patel Marg
Diplomatic Enclave
New Delhi 110 021
India

tel +91 11 2611 0202
f +91 11 2611 0808, 5055
---
---

Our 31st International Public Meeting will be held from 10-15 February 2008 at the Taj Palace Hotel, New Delhi.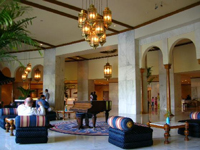 The Taj Palace is nestled in six acres of lush greens in the exclusive Diplomatic Enclave of the city, and a mere 10 minutes drive from the airport.
Also known as the The Convention Centre of the city, this hotel has played host to Heads of State, corporate moguls and high profile businessmen from across the world.
Where Should I Stay?
Due to additional events being held in the two nearest hotels, attendees will need to spread across several hotels. There is also a general shortage of hotel rooms in Delhi. This is
similar to both Geneva and Brussels when several conferences occur at the same time but thanks to India's current economic boom, has become a more frequent event. New hotels are being built to cater for demand but they will not be completed by the time the ICANN meeting takes place.We have contracted for as much space as possible with several hotels in order to deal with expected demand.
Unfortunately, hotel rooms close to the venue are also expensive. This is for several reasons. The diplomatic enclave was chosen for the meeting venue because it was best suited to handle the various needs to support an ICANN meeting. Demand for hotels rooms in the enclave however is high, resulting in high prices.