DNSSEC Workshop
Date:
Wed 04 Mar 2009 -

11:00

-

12:30
What it is | The Security and Stability Advisory Committee (SSAC) actively works to facilitate the deployment of DNSSEC.  This session is a public
presentation from those actively engaged in the deployment of
DNSSEC.
Why it's important | Registries, registrars, and others who plan to deploy DNSSEC services will benefit from the presentation and discussion of the
deployment experience.
Who should attend | Anyone with an interest in the deployment of DNSSEC, especially registry and registrar representatives from technical, operational,
and strategic planning roles.
Agenda details: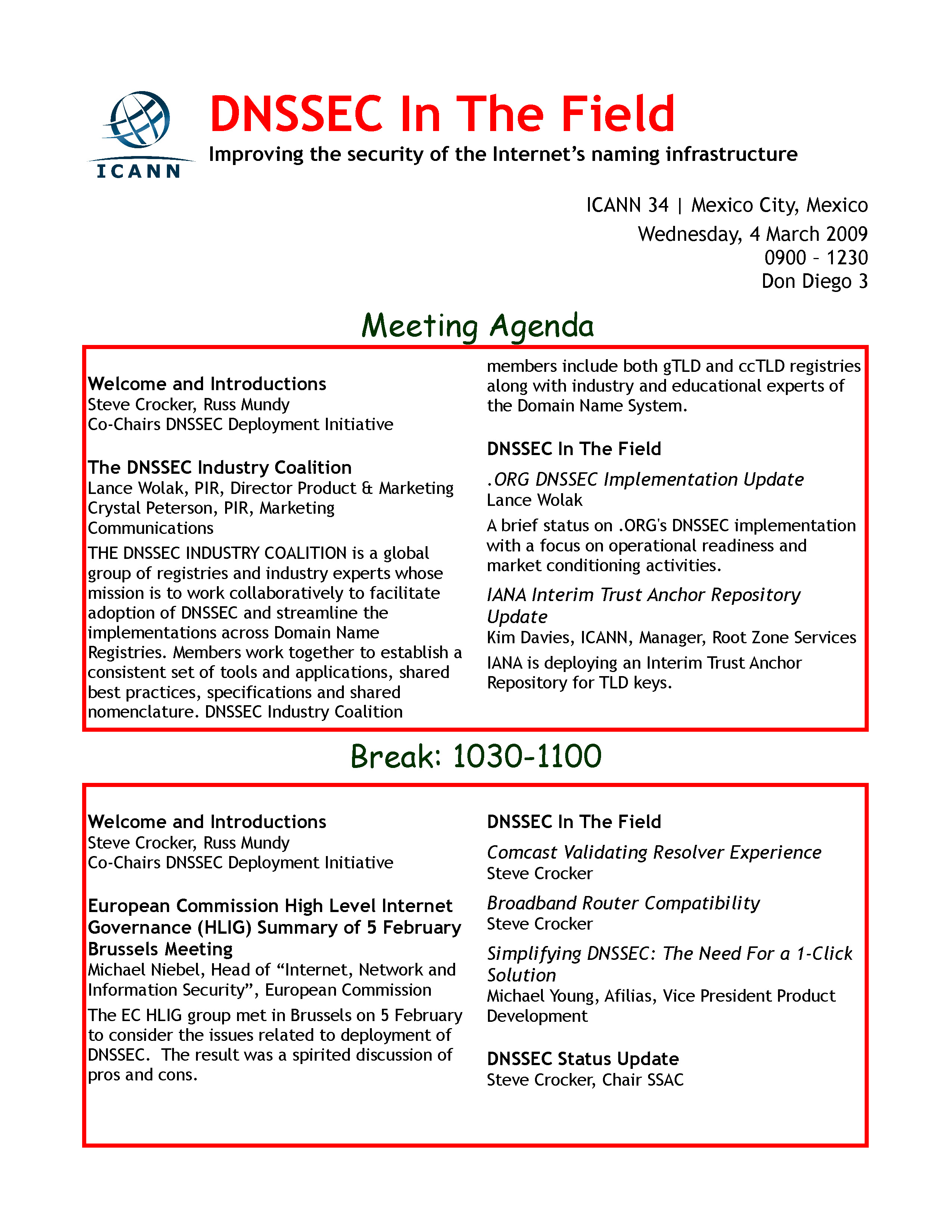 * Welcome and Introductions
Steve Crocker, Russ Mundy
Co-Chairs DNSSEC Deployment Initiative
* The DNSSEC Industry Coalition
Lance Wolak, PIR, Director Product & Marketing
Crystal Peterson, PIR, Marketing Communications
THE DNSSEC INDUSTRY COALITION is a global group of registries and industry experts whose mission is to work collaboratively to
facilitate adoption of DNSSEC and streamline the implementations
across Domain Name Registries. Members work together to establish
a consistent set of tools and applications, shared best practices,
specifications and shared nomenclature. DNSSEC Industry Coalition
members include both gTLD and ccTLD registries along with industry
and educational experts of the Domain Name System.
* DNSSEC In The Field

- .ORG DNSSEC Implementation Update
Lance Wolak
A brief status on .ORG's DNSSEC implementation with a focus on
operational readiness and market conditioning activities.

- IANA Interim Trust Anchor Repository Update
Kim Davies, ICANN, Manager, Root Zone Services
IANA is deploying an Interim Trust Anchor Repository for TLD
keys.
- ICANN DNSSEC Update
Joe Abley, ICANN
A status update on the deployment of DNSSEC within ICANN.
* BREAK: 1030-1100
* Welcome and Introductions
Steve Crocker, Russ Mundy
Co-Chairs DNSSEC Deployment Initiative

* European Commission High Level Internet Governance (HLIG) Summary
of 5 February Brussels Meeting
Michael Niebel, Head of "Internet, Network and Information
Security", European Commission
The EC HLIG group met in Brussels on 5 February to consider the
issues related to deployment of DNSSEC. The result was a spirited
discussion of pros and cons.
* DNSSEC In The Field
- Comcast Validating Resolver Experience
Steve Crocker
- Broadband Router Compatibility
Steve Crocker
- Simplifying DNSSEC: The Need For a 1-Click Solution
Michael Young, Afilias, Vice President Product Development
- Requirements of a DNSSEC Logo Program as a Public Relations Tool
Lutz Donnerhacke
* DNSSEC Status Update
Steve Crocker, Chair SSAC