GNSO Working Group: WHOIS
in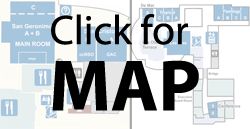 What it is:
A face to face meeting of the Whois Working Group of the GNSO. (see the Working Group's charter here: http://gnso.icann.org/issues/whois-privacy/whois-wg/whois-working-group-charter-16apr07.pdf) This group is developing the recommendations for changes to the Whois service of the old Whois Task Force (see here for that group's report with the recommendations: http://www.icann.org/announcements/announcement-16mar07.htm) It will be concluding and reporting back to the GNSO Council by 27 July, 2007. (see here for the current draft of this Working Group's 'Outcomes Report': http://forum.icann.org/lists/gnso-whois-wg/msg00394.html)
Why it's important:
This will be the longest working session of this group, and we expect to make a lot of progress on the Outcomes Report which defines this group's recommendations to the GNSO Council.
Who should attend:
People who are interested in / concerned about Whois. NB: Though this group is a Working Group of the GNSO, it actually has a broad range of active observers from the public, private and non-profit sectors.
Agenda details :
Agenda for Sunday, 24 June meeting of the Whois Working Group
1.OPOC's legal status
- ICANN accredititation or obligations in an amended RAA ?
- need for OPOC to acknowledge nomination as the OPOC?
2. OPOC and proxies
- no more proxies or amended proxies?
3. OPOC as actor or communicator
- who performs the REMEDY function?
4. Determining right to bulk access by third parties
- for LEAs
- for private sector
5. Other questions arising from the v2 report
6. AOB