ICANN Registry Proposal


Registry Operator's Proposal - TECHNICAL CAPABILITIES AND PLAN

D15.2.11. System reliability. Define, analyze, and quantify quality of service.

Many pieces bring together a high volume and mission critical web based service. These components include: Internet connectivity (leased line), networking equipment, server hardware and software, monitoring tools, backup equipment, domain name registration, digital certificate acquisition, etc.

Since WebVision executes all aspects of the web presence, as a single point for the client company, ongoing improvements and reliability can be easily measured. WebVision can, for example, perform load testing on e-commerce servers and databases to gauge how many site hits can be managed, as well as perform other functions important to complete, complex Web site management. Additional Web site monitoring functions to ensure system reliability and guarantee "always-online" performance include:
Centrally monitoring and managing Web servers and databases
Monitoring speed and reliability of all devices and systems
Providing data for marketing personnel, such as hit statistics, etc.
Locating potential bottlenecks that affect the performance of the Web servers and databases
Enhancing availability, reliability and performance of Web applications
Ongoing WAN monitoring functions to increase reliability are:
Reporting of WAN performance to eliminate bottlenecks and create an efficient network infrastructure
Proactive management of the WAN to support effective capacity planning and better utilization of resources
Router/switch proactive reporting
Individual port monitoring
View of key performance indicators for each router/switch
Trend reporting against established baselines
Database monitoring functions included are:
Tracking and managing performance, availability and reliability of business and database applications to meet SLA requirements
Performing capacity planning to better manage use of resources
Achieving predictable application performance
Application troubleshooting
Packet analysis functions include:
Troubleshoot and resolve network problems faster and more effectively because of the ability to remotely analyze network segment performance through packet captures
Analyze detailed network traffic information to support better capacity planning
Monitor traffic for network performance
Tracking network usage by user and by protocol
Examples of proactive monitoring functions are:
Providing server and database performance and trend reporting to afford a basis for prediction to facilitate proactive management of and database resources
Facilitating capacity planning to improve use of and database resources and improve overall performance
Providing complete statistics trending over specified time periods for CPU, memory, bandwidth, storage, etc.
Some reactive monitoring functions are:
Event reduction, correlation, sequencing, notification and reporting
Rules-based event handling of Web server, LAN Segment or Database events
Centralized logging of all alarms and status information
Automated actions and responses, including two-way paging and email option
Problem escalation policy implementation
Finally, security-monitoring functions include:
24-hour continuous surveillance
File and resource auditing
Firewall monitoring
Intrusion and virus detection
Password management
Supplying resource usage logs, audits reports and other management reports
Enforcing security policies
Combined together, the above elements allow WebVision to offer the most reliable operating environment with the most predictable performance results framed according to the registry Sponsoring Organization's expectations and budget.
There will be an SLA between WebVision and the Sponsoring Organization guaranteeing minimum performance levels and minimum acceptable delays for all aspects and components of the registry's support infrastructure. A procedure will be established and implemented to periodically audit and review compliance of SLAs and make necessary recommendations for further improving reliability.
Because WebVision's current infrastructure consists of redundancy for every element ranging from storage tape backup to network switching and client systems, Web Vision is capable of offering SLA guarantees reaching a quality of service approaching 99.999% availability. As illustrated in the diagram below, fail-over is built in at each level in the infrastructure. Our ability to offer this level of reliability is only possible because WebVision has designed the network and the hosting environment from ground up, for the purpose of serving the most challenging and mission critical applications.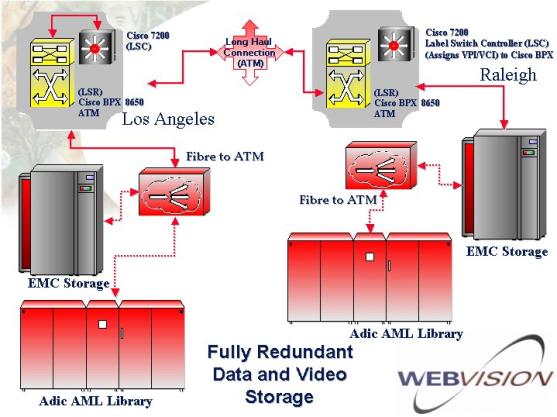 Diagram showing fully redundant storage and network environment designed for 99.999% uptime.