ICANN Registry Proposal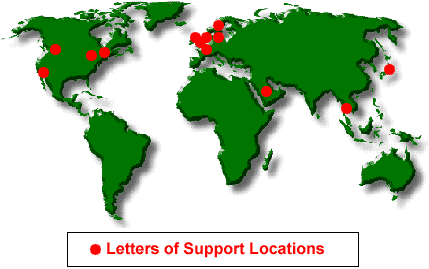 As of 29th September 2000, the following letters had been received, with others pledged:

Click on a company name to read support letter.

British Telecom (UK) - www.bt.com

British Telecommunications (BT) wears the crown in the United Kingdom as the UK's dominant phone company. BT provides local and long-distance phone service (28 million access lines), as well as Internet access, leased lines, and other data services. Its BT Cellnet unit has 8 million subscribers and is the UK's #2 mobile phone operator (behind Vodafone), and BT is expanding its mobile Internet offerings. Telecom competition has been keeping the company busy: It's been ordered to upgrade and open its UK networks. Meanwhile, BT is investing in telecom companies overseas, and it has teamed up with AT&T in Concert, an international telecom joint venture. BT plans to spin off its Yellow Pages unit.

Carphone Warehouse Group (UK) - www.carphonewarehouse.com

Carphone Warehouse is the largest retailer of mobile devices in Europe. With operations in 17 countries, and over 1000 stores, the Carphone Warehouse offers impartial advice on the combination of phone, network and tariff that best meets a customer's needs. The company has sold over 4 million handsets, and is Nokia's largest customer in Europe. The company is growing rapidly and expanding into other areas as well, for example a collaboration with AOL on a WAP portal.

Dallah Albaraka Holding Co. (Saudi Arabia) - www.albaraka.com

Dallah Albaraka Group is world renowned as a pioneer of Islamic finance and is one of the largest conglomerates based in Saudi Arabia where it was established in 1969. All its economics activities comply with Islamic Sharia.

European Telecommunications Standards Institute (EU) - www.etsi.org

ETSI (the European Telecommunications Standards Institute) is a non-profit making organization whose mission is to produce the telecommunications standards that will be used for decades to come throughout Europe and beyond.

Based in Sophia Antipolis - a high tech research park in southern France - ETSI unites 773 members from 52 countries inside and outside Europe, and represents administrations, network operators, manufacturers, service providers, research bodies and users.

Freeman Spogli & Co. (USA) - www.freemanspogli.com

Freeman Spogli & Co. LLC is a privately-owned investment firm, dedicated exclusively to investing and partnering with management in companies positioned for growth. Established in 1983, the Firm has a professional staff of 15 individuals with offices in Los Angeles and New York. Over the past 17 years, Freeman Spogli & Co. LLC has invested approximately $1.7 billion in 32 portfolio companies with aggregate transactions value in excess of $11 billion.

Malaysian Resources Corporation Berhad (MRCB Berhard) - www.nstp.com.my and www.tv3.com.my

Power and media conglomerate Malaysian Resources Corporation Bhd., or MRCB, was initially known as a property developer. In early 1993, four directors of New Straits Times Press (NSTP) acquired 48% of NSTP and 43% of Sistem Televisyen Malaysia (TV3) and injected them into MRCB. Eventually, MRCB evolved into a conglomerate investment company with core business interests in power generation, media, infrastructure and property industries. It is listed on the KLSE with a market capitalisation of over RM5 billion. Its involvement in the power industry includes shares in Malakoff, Port Dickson Power Sdn Bhd and Transmission Technology Sdn Bhd, to name a few. Its media interests include NSTP and TV3. Investments in the property sector has been numerous too with the most recent one being KL Sentral. Other involvements include financial services, for example forming a JV with Croatian Niva Inc. to establish a bank. The power and property sectors were the major contributors of MRCB's turnover. In 1996, net income was RM521 million, which is an 8 times increase from the previous year.

NTT Data Corporation (Japan) - www.nttdata.com

One of Japan's leading information systems and computer networking companies, NTT Data provides a broad range of services and products. These include data center management and maintenance (54% of sales); systems development and software integration (33% of sales); and other consulting and outsourcing services involving large-scale communications systems. NTT Data also offers Internet access, intranet development, network security, and e-commerce services. Clients come from such industries as banking, health care, manufacturing, transportation, and real estate. The Japanese government accounts for half of sales. Nippon Telegraph and Telephone, the world's largest telecommunications company, owns 54% of NTT Data.

SCP Private Equity Partners, L.P. (USA) - www.scppartners.com

SCP Private Equity Partners, L.P. is a private equity investment fund which makes post-venture stage investments in growth companies. The fund, which is sponsored by Safeguard Scientifics Inc. (NYSE:SFE), has $265 million under management and invests in a broad range of industries.

Spencer Trask & Co. (USA) - www.spencertrask.com

Over a century ago, Mr. Spencer Trask sought out and financed the brightest ideas of his day - including what is arguably the most important invention of all time and what is the very symbol of a good idea, Thomas Edison's electric light bulb.

Mr. Trask's policy was to reward the entrepreneurs who had great ideas (he, in fact, was responsible for much of Mr. Edison's financial success) and also rewarded the investors who joined him in backing business start-ups such as the first electric power company, which became Consolidated Edison, with Mr. Trask himself as its first chairman; and the predecessor to General Electric.

Today, Spencer Trask & Co. continues this same high principled approach to financing. The company seeks to identify and support tomorrow's heroes, those visionaries whose innovations will brighten the world of tomorrow. For instance, Spencer Trask is proud to have helped Nobel Prize Winner Walter Gilbert find the breast cancer gene - one of the most significant discoveries in the history of genetics. The firm also spearheaded the initial financing of Ciena Corporation, possibly the most successful venture investment of modern times. The Chairman is equally proud to have provided the financial resources to enable polio pioneer Dr. Jonas Salk to develop his breakthrough AIDS vaccine.

Telia (Sweden) - www.telia.com

Telia is the leading telecommunications company in Sweden, one of the world's most liberalized and competitive telecom markets. The company has also established business operations throughout the Nordic/Baltic region and, together with local partners, around the world.

University of Washington (USA) - www.washington.edu



World Intellectual Property Organization - www.wipo.org

The World Intellectual Property Organization (WIPO) is an intergovernmental organization with headquarters in Geneva, Switzerland.

It is one of the 16 specialized agencies of the United Nations system of organizations.

WIPO is responsible for the promotion of the protection of intellectual property throughout the world through cooperation among States, and for the administration of various multilateral treaties dealing with the legal and administrative aspects of intellectual property.