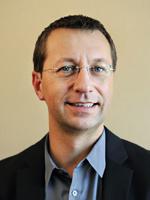 Xavier Calvez joined ICANN in August 2011 as Chief Financial Officer. He brings to his position two decades of international experience in strategic planning, financial reporting, analysis and modeling and financial systems implementation. Prior to joining ICANN, he held progressive leadership positions in finance at Technicolor/Thomson Multimedia over a ten-year period, ultimately serving as CFO for Technicolor Creative Services. In that role, he oversaw finance during a time of major transformation with system's implementation, reorganization, and process changes/improvements for a diversified group of businesses, spread across the world.
Before joining Technicolor/Thomson Multimedia, Xavier worked with audit and financial clients out of the Paris, France and Miami, Florida offices of Deloitte.
His areas of expertise include acquisition/integration, restructuring, line of business reporting, auditing, tax compliance, organization development and cost management.
Xavier earned a Masters in Accounting and Finance from Université du Maine-Le Mans-Laval. He speaks English and French fluently.