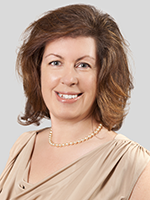 Position:
Senior Advisor to the President — Global Stakeholder Engagement
Sally leads Stakeholder Engagement globally. She is one of Europe's most experienced communications consultants and has worked with large international companies for the past twenty years helping them to improve their relationships with their stakeholders. For the past six years she has been responsible for leading Europe's largest public relations firm Hill & Knowlton and has been the Chairman of the PRCA (Public Relations Consultants Association) since 2010.
She started her career working with property companies during the boom of the late eighties and moved on to work with financial and professional services companies including the launches of First Direct and Virgin Money. She moved into the technology sector in the mid-nineties as it emerged into the business mainstream helping companies such as Intel, HP, Vodafone, RIM and the GSM Association bring innovation to a wider audience. She took over as CEO at H&K in 2006 first in the UK and then EMEA. This gave her first-hand experience of how to build teams that span borders and cultures as well as how to build successful businesses in countries as diverse as Russia, Spain and the UAE.