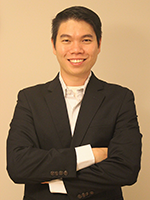 Position:
VP Stakeholder Engagement – Asia
Kuek Yu-Chuang is ICANN's vice president for global stakeholder engagement for the Asia Region and managing director of its Singapore hub office.
Before joining ICANN in August 2013, Kuek served as a Senior Director for Yahoo! Inc., where he led the company's public policy efforts in the Asia Pacific and Latin American regions.
Prior to joining Yahoo!, Kuek served as a Management Associate for the Singapore Government. In that capacity, he engaged in intellectual property policy development for Singapore's Ministry of Law.
He also has extensive government experience having held roles as diplomat, trade negotiator and policy-maker. Kuek worked for Singapore's Ministry of Foreign Affairs and served in Singapore's Washington, D.C. Embassy where he helped plan and implement outreach to the U.S. Congress and the White House.
Kuek studied International Politics at China's Peking University where he obtained a Bachelor of Arts. He later obtained a Master of Arts from Harvard University in the U.S.