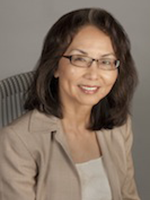 Susanna Bennett was appointed Chief Operating Officer and joined ICANN on July 1, 2013. She brings to ICANN over 20 years of executive leadership experience from extensive operations roles with international public and private companies in the high-tech sector. She has built operational and business excellence on multiple continents for global expansion, emerging growth, mergers and integrations, initial public offerings, turn-around, management-buy-out and restructuring. Susanna is passionate and an expert professional in operational excellence and international expansion, and has continuously applied her broad experience to grow international organizations to new heights.
Most recently, Susanna served as the Chief Financial Officer, Vice President of Human Resources and a Director of the Board for Jazz Technologies, a public semiconductor company in Newport Beach, California. After joining Jazz in early 2008, she led a merger integration, during which she attained operational excellence and major cost reductions, consistently over-achieved financial targets, developed key-metrics reporting maximizing financial and operational visibility, initiated organizational development, and enabled international growth.
Previously, Susanna served in CFO and executive roles, all with wide operations responsibilities, for:
Tatum, a major CFO services firm – Served as a CFO Partner focusing on China market expansion serving technology clients in Beijing and Shanghai. She led acquisition due diligence, prepared client for initial public offering, provided strategic advice on building integration synergies and operational infrastructure.
eEye, a digital security software company – Joined the new management team focusing on restructuring for growth.
IBM – Retained post-acquisition to integrate operations with IBM, created and executed transition strategies, and established and met an aggressive transition budget and schedule.
Viacore, a world-leading B2B process integration hub – Created start-up operations infrastructure, policies and controls to enable growth and maximize valuation of the acquisition by IBM.
Printrak International, a global bio-metric identification systems software & hardware public entity – With her broad financial and operations responsibilities, Susanna was a key member of the leadership team that executed management-buy-out, major restructuring, swift turn-around, global expansion, initial-public-offering, multiple acquisitions and integration, and exit strategy.
Born in Shanghai, China, Susanna spent her childhood in Shanghai and Hong Kong. After immigrating to the United States, she and her family lived on the east coast, mid-west and Canada before settling in California. She earned a Master's of Business Administration degree (Executive Program) from Pepperdine University, Malibu, California while working full-time and a Bachelor's Degree (high-honors) in Accounting & Business Administration from California State University, Fullerton.
Susanna also completed multiple executive programs at Harvard, MIT, UCLA, and UCI; served as President and Chairman of Financial Executive International – Orange County Chapter (2007-2008), volunteered as board members for several non-profit organizations dedicated to education and welfare of disadvantaged children and families, mentored MBA & EMBA students, and coached university students in winning business plan competitions.
Susanna resides in Orange County, California with her spouse of over 30 years. They are the proud parents of two adult children.