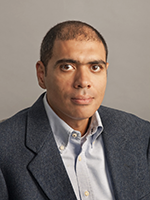 Position:
VP, Stakeholder Engagement - Middle East
Baher Esmat is a leading voice on Internet policy and regulatory issues in the Middle East. In his role as Vice President, he is part of the advance guard of Internet proponents for a free, open and affordable Internet within the Arab world.
A keen facilitator of collaboration and dialogue between ICANN and the broader Internet community, Baher promotes and supports domain name system operations initiatives and capacity-building projects in the region. Among these are efforts to promote adoption of Internet Protocol version 6 and the broader deployment of internationalized domain names. Another focus is on the further growth and development of the region's domain name industry.
He joined ICANN in 2006 after a four-year tenure at the Egyptian Ministry of Communications and Information Technology, where he played a role in the nation's efforts to build an information society. He served in various positions at MCIT, most recently as Telecom Planning Manager, and he was responsible for communications infrastructure and service development projects.
Baher is a former member of the WSIS Working Group on Internet Governance, and served as Chair of the Egyptian IPv6 Task Force until he joined ICANN. He is currently serving on the Internet Governance Forum's Multistakeholder Advisory Committee, and the Working Group on Enhanced Cooperation of the Commission on Science and Technology for Development.
He earned a Bachelor's degree in Electronics and Communications Engineering from Cairo University in June 1993, and a Master's degree in Computer Science from the American University in Cairo in June 1999.