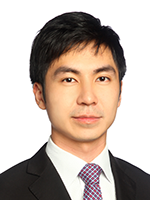 Position:
Strategies and Initiatives Director – APCA
An international executive with Foreign Service credentials, Jia-Rong Low is ICANN's Head of Strategy and Initiatives for the Asia Pacific. Stationed in ICANN's recently opened Asia Hub in Singapore, Jia-Rong works to promote regional participation in ICANN's multistakeholder model among government, business and civil society.
As comfortable in international economic and trade discussions as he is on the tennis court, Jia-Rong has been engaging governments and businesses on a multitude of policy and business development projects in the Southeast Asia region. A World Trade Organization- (WTO) certified trade expert, Jia-Rong has also worked extensively with financial institutions like the International Money Fund and the Asian Development Bank.
Jia-Rong spent the bulk of his career deeply involved in engagement and public policy development in the Asia region. He most recently served at Singbridge International, a Singapore government-linked company specializing in sustainable urban development projects. While there, he worked actively to collaborate with governments in influencing policy-making in areas such as urban and economic development.
A former diplomat, Jia-Rong worked for Singapore's Ministry of Foreign Affairs and served as First Secretary (Political) at the Singapore Embassy in Hanoi, where he helped plan and implement outreach to the Vietnam government. Jia-Rong is very familiar with the region, having represented Singapore in engaging the region's governments such as Thailand, Myanmar, and the Philippines.
Jia-Rong holds a Diploma in International Trade Law from the World Trade Organization in Geneva, Switzerland. He majored in Public Relations at Singapore's Nanyang Technological University where he obtained a Bachelor of Communications Studies. Jia-Rong has a love for languages and cultures. He is fluent in English, Mandarin and Vietnamese; and is currently also learning Arabic.