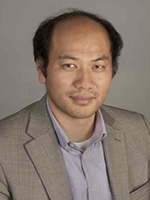 Position:
Policy & Technical Advisory Support, Sr Manager
Steve Sheng joined ICANN in 2009 as a senior technical analyst. In this position, he supports projects of ICANN's Security and Stability Advisory Committee (SSAC) and provides research support for projects in the policy department.
Steve Sheng graduated from the University of Pennsylvania in May 2002 with a Bachelor's of Science degree in Computer Science and Engineering, and a Master's of Science degree in Computer and Information Science. In September 2009, he received his PhD in Engineering and Public Policy from Carnegie Mellon University.
Steve has authored more than 15 academic papers and reports on a variety of issues at the intersection of technology and policy. He has been a frequent speaker at academic and industry conferences. His past work on anti-phishing has also been featured as one of the top 25 radical network research projects by Network World in 2008.
More information about Steve Sheng can be found at www.chariotsfire.com.