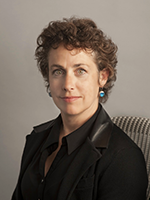 Position:
VP, Strategic Initiatives & Advisor to President
Denise Michel, VP, Strategic Initiatives & Advisor to President, has been involved in the evolution of the Internet for over 20 years. Starting in the early 1980's, she served in positions of increasing responsibility with the U.S. Senate, the U.S. National Science Foundation, the American Electronics Association, the Clinton Administration, Internet start-ups, and ICANN.
Some of her early contributions to the Internet include helping to evolve the principal Internet backbone from NSFNET, expanding the U.S. network of Supercomputer Centers, starting the American Electronics Association's Technology Policy Division, and working with then Senator Al Gore to launch the U.S. High Performance Computing Initiative in 1989.
President Clinton appointed Ms. Michel in 1993 to the position of Senior Technology Advisor, where she drafted the world's first *National Information Infrastructure Initiative* (a strategic plan for advancing a private sector-led Internet) and coordinated broad-ranging programs to progress the Internet.
She co-founded a technology company in 1995 that provided businesses with Internet-based merchandising systems, and has consulted for a variety of businesses and organizations.
At ICANN, Ms. Michel was the first Director for At-Large, helping to create a global structure for Internet users' participation and representation in ICANN. She subsequently served as ICANN's Vice President for Policy, where she oversaw operations for ICANN's international, consensus-based policy process and worked with the global Internet community to support the stable and secure operation of the Internet's unique identifier systems. During her tenure, she built an international Policy Staff in seven countries and supported the evolution and internationalization of the domain name space.