OFFICIAL VENUE:
2025 Avenue of the Stars, Los Angeles, CA 90067
tel +1 310 228 1234  |  fax +1 310 551 7532

Discover the regal elegance and unmatched service of Hyatt Regency Century Plaza. Our iconic Los Angeles, California full-service hotel has been catering to discerning clients, including dignitaries and the Hollywood elite, for over 45 years. No request is too small for our attentive and experienced staff. We delight in exceeding your expectations. A beautiful setting near Beverly Hills complements the host of deluxe amenities offered at our Century City hotel, including fine dining, gracious guestrooms, state-of-the-art meeting facilities, Hyatt Fast Board™, PDA and Express Check-in, Hertz car rental, and an international business center. Treat yourself to the level of service you deserve at Hyatt Regency Century Plaza.
Rates: USD $215 – USD $565 (all rates include Internet)
ADDITIONAL HOTELS: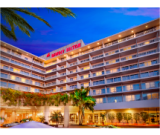 9876 Wilshire Boulevard, Beverly Hills, CA 90210
tel + 1 310 285 1306  |  fax + 1 310 285 1313
The Beverly Hilton hotel combines the excitement and entertainment of Hollywood with the prestige of Beverly Hills. Perfectly located at the gateway of the entertainment capital of the world, the Forbes Four-Star Beverly Hilton hotel invites guests to experience the grandeur of this world-famous city. Discover the golden age of Hollywood depicted through photography, memorabilia and modern interior design at this stunning Beverly Hills hotel.
Rates: Standard King - USD $265 (all rates include Internet)
10320 W Olympic Blvd, Los Angeles, CA 90064
tel + 1 310 556 3593  |  fax + 1 310 203 0563
Booking information:
Call or email mroca@pacificahost.com and reference "ICANN 51 Meeting" for discounted rates.
Newly renovated in 2013, the Courtyard by Marriott Los Angeles is a short walk to Century City. It offers spacious guest rooms with large desk, mini-refrigerator, microwave, iron and ironing board. Flat screen TVs, IPod docking stations and complimentary wifi.
Rates: USD $239 – USD $289 (all rates include Internet)
1150 South Beverly Drive, Los Angeles, CA 90035
tel +1 310 553 6561  |  fax +1 310 277 3759

The Crowne Plaza Hotel Beverly Hills promises distinguished accommodations and easy access to business and leisure destinations, including Los Angeles International Airport (LAX), Burbank Airport (BUR), Hollywood and downtown Los Angeles. Conveniently positioned near I-10 and I-405 and just off Wilshire Boulevard, this hotel offers Los Angeles, CA travelers a central home base for exploring the area.
Top amenities, including an outdoor, heated pool, a Fitness Center and the Crowne Plaza Sleep Advantage® program, allow hotel guests to feel pampered in Beverly Hills, while conveniences like complimentary Wi-Fi access and on-site dining ensure a pleasant stay.
Rates: Single Occupancy - USD $209 +tax, Double Occupancy - USD $219 +tax (all rates include Internet)
11461 Sunset Boulevard, Los Angeles, CA 90049
tel +1 310 476 6571  |  fax +1 310 476 4982
GROUP CODE: "ICANNMEETING51"
Luxe Sunset Boulevard Hotel is an urban retreat located on seven acres of lush, pristine property perfectly perched at the intersection of Brentwood and Bel Air. Convenient to Los Angeles International Airport and some of the most prestigious sites in Los Angeles, Luxe Sunset Boulevard Hotel offers an urban oasis in the middle of one of the nation's largest cities.
Decorated by famed interior designer Mary McDonald, the 162 guestrooms and suites at our Bel Air hotel retain simple elegance while featuring the latest in comfortable amenities for your stay.
Rates: King Superior Room - USD $229 +tax, King Executive Junior Suite - USD $269 +tax (all rates include Internet)