A Clean and Attractive City, SEOUL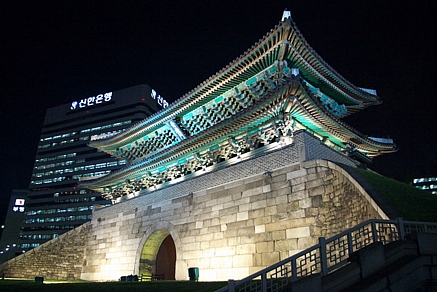 Seoul has been the capital of Korea for about 600 years, since the time of the Joseon Dynasty (1392-1910). Seoul was referred to as "Han Yang" during the Joseon Dynasty. The newly founded Republic of Korea officially changed its capital city's name to Seoul. Seoul has developed into a bustling metropolis, acting as the hub for political, economic, social, and cultural matters. Seoul's total area is 605.52 square kilometers, or 0.6 percent of the entire country. The Han River (Han gang) bisects the city into two parts: the northern part (Gangbuk) of the city is a focal point for culture and history, southern part (Gangnam) is well known for its business district. Seoul had a population of 10,492,176 as of March 2009. This accounted for about a quarter of the total national population. Seoul has hosted many international events including: 1986 Asian Games, 1988 Olympic Games and 2002 Korea/Japan FIFA World Cup. The success of these events has shown people that Korea is truly an international city. Also Following ICCA 2008, Seoul is ranked 9th in the world and 2rd in Asia in holding international conferences.

Seoul is a city of contrasts. From ancient palaces with centuries of history to high-tech skyscraper of steel and glass, from ancient texts dating back millennia to the highest rate of broadband Internet access in the world, Seoul is a place where the old and new exist in harmony. With one foot in the past and another in the future, Seoul is a city that never ceases to amaze. Seoul is also the center of the so-called "Korean Wave" sweeping Asia. As Korean dramas, film and music reach a wider audience abroad, more and more visitors are coming to Seoul to experience first-hand the city's rich culture and make use of its extensive cultural facilities. Due to the division of the nation and the proximity of the DMZ with North Korea just an hour's drive away, some might think Seoul to be a somewhat risky place to visit. Foreign news reports aside, Seoul is one of the safest places in the world for foreign travelers, with low levels of crime, a hospitable population, cutting-edge medical facilities and capable police and security authorities. Seoul's security situation, in fact, has never been better.
MUST SEE


- Royal Palaces
Palaces built within the four traditional gates were areas of authoritarian rule, and now remain in the metropolitan area as vestiges of classic, Korean architecture. The good news is they are located within walking distance of each other and can be explored easily in a day. www.royalpalace.go.kr
- Namsangol Hanok Village and Bukchon Hanok Village
The power and dignity of Korean houses, or hanok, are available for view in the heart of Seoul at Namsangol Hanok Village and Bukchon Hanok Village. This places are charming, fascinating neighborhood that boasts endless mazes of traditional Korean houses, private art galleries and museums, and memorable personalities who are dedicated to cultural preservation. For visitors who wish to experience traditional Korean living, Namsangol Hanok Village and Bukchon Hanok are a must-visit area of Seoul.
http://www.pukchon.com/
http://english.visitseoul.net/visit2007en/attractions/traditionalseoul/t...
- Han River(Han gang)
The Han River is the center of Seoul's urban renewal. There are 7 leisure boats operating at each ferry of Jamsil, Ttukseom, Yeouido, Yanghwa and Nanji(Samgam) for various combinations of cruising routes. With the gentle ripples of the river dancing to the dazzling spotlights and the tunes of music from the leisure boats, each ferry is a romantic place lovers, friends and families can get together and enjoy the beauties of the Hangang. http://hangang.seoul.go.kr/eng/
MUST GO


- Insa-dong Art Street
Because it is the largest market of traditional Korean art and products, Insa-dong is the ideal place for visitors who want to experience the true character of Korea with its subtle, enduring beauty. Once you are in Insa-dong, you will be immediately drawn to the small alleys lined with numerous shops and galleries, both tiny and spacious: antique shops, Korean stationery stores, frame shops, handicraft shops, pottery and porcelain shops, bookstores and painting studios, and art supply stores. In addition, restaurants and cafes serve traditional food and teas. http://english.visitkorea.or.kr/enu/SH/SH_EN_7_2_2_1.jsp
- Myeong-dong
Myeong-dong is a mid-priced shopping district in Seoul, well known for offering mid to high-priced trendy fashions and accessories. Fashion boutiques and name brand clothing chains abound in this area. http://english.visitkorea.or.kr/enu/SH/SH_EN_7_2_3_1.jsp
- Namdaemun Market
Namdaemun market is a famous place for products' variety, compatible quality, and cheap prices. This place is popular among Koreans as well as foreign visitors. Namdaemun market is considered as first market in Korea.
http://english.visitkorea.or.kr/enu/SH/SH_EN_7_2_4_1.jsp
- Cheonggyecheon
Bodies of water that meander throughout different parts of the city are also special areas of recreation. Cyclists, rollerbladers, and anglers are known to converge in the following places. it is an oasis of the city, Seoul.
http://english.visitseoul.net/visit2007en/attractions/outdoorseoul/outdo...
MUST EAT

- Bulgogi (Marinated, barbecued beef)
Ingredients: Beef (or pork), pear juice or sugar, soy sauce, minced garlic, diced green onion, sesame oil
Description: Beef or pork is sliced thinly then marinated in seasoning before being grilled.
- Bibimbap (Boiled rice mixed with vegetables)
Ingredients: Rice, fernbrake, roots of balloon flower, bean sprout, beef, red pepper paste, sesame oil
Description: A dish made by mixing rice with various other cooked vegetables. Great for experiencing different vegetables, \pleasing to the eye, and full of nutrients. Jeonju's variation of bibimbap is most famous.
- Kimchi jjigae (Kimchi stew)
Ingredients: Kimchi, pork, sesame oil, green onion, garlic
Description: First the pork is browned in the bottom of the pot before water and kimchi are added. If sour kimchi is used, it makes a better tasting stew.
※ For more information about Seoul, click the following link
http://english.visitseoul.net/visit2007en/aboutseoul/whyseoul/whyseoul.j...
http://english.seoul.go.kr/today/about/about_01quick.htm
※ For more information about Korea, click the following link
http://english.visitkorea.or.kr/enu/1001_About%20Korea.jsp
http://www.korea.net/korea/korea.asp