General Information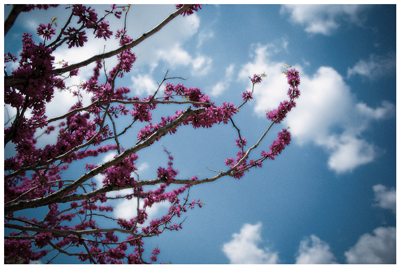 Country: South Korea
Capital City: Seoul
Time Zone: Greenwich Mean Time +9 hours.
Incheon International Airport (IIA) is the largest airport in South Korea, and one of the largest and busiest in Asia. Since 2006, it has been consecutively rated as the best airport in the world and received the full 5-star ranking by Skytrax.
Located 70 km (43 mi) from Seoul, the capital and largest city of South Korea, Incheon International Airport is the main hub for Korean Air, Asiana Airlines and Polar Air Cargo.
AIRPORT TRANSPORTATION INFORMATION
Current temperature in Seoul:
Korea has four seasons, with a wet monsoon/summer in the middle of the year, and a cold winter from November to March. October and November are in the autumn months, the most ideal time to visit Korea. During this time, the country experiences warm, sunny weather, skies are cobalt blue and the spectacular foliage is perhaps the biggest draw. Fall, a season for trench coats, is the best season to visit Korea because of clear skies and low humidity.
In October and November, long slacks, long-sleeved shirts, and cardigans or jackets are ideal. November feels quite chilly, so a thick jacket is usually needed. In Korea, the sunlight in fall may feel more intense than in mid-summer, so sunglasses and hats are recommended.
The annual average temperature and rainfall in October and November for 5 years of Seoul Province are as follows.
Click here for more information about the Korean weather
Eating out is one of the great pleasures of visiting Korea, a country famous for its diverse native dishes. Korean cuisine is nutritious, well balanced and low in calories as it involves a wide variety of vegetables and fermented foods. The Korean meal is almost always accompanied by a big bowl of hot soup or stew, sticky rice and a variety (minimum 3) side dishes, usually different forms of kimchi (pronounced kimchee). Bulgogi (marinated, barbecued beef) and Bibimbap (steam rice mixed with vegetables) are the most famous Korean food. Also Western and other foods are available in a growing number of restaurants and stores. Although most of the Western options available in supermarkets and shops are from the United States, the number of European and South American products on stores shelves is increasing. Western and other ethnic restaurants are growing in number and improving in quality as more and more Koreans are traveling and/or living abroad. It is also now possible for foreign residents to own restaurants and a number of them are doing so.
The unit of Korean currency is the Won (₩). Specifically, various notes and coins are used: Notes include 1,000 won, 5,000 won, 10,000 won and 50,000 won denominations, while coins include 10 won, 50 won, 100 won, and 500 won denominations. As of June 2009, the exchange rate is approximately US$1 to KRW 1,250. Foreign bank notes and traveler's checks can be converted into the Korean won at foreign exchange banks and other authorized money exchange outlets. The exchange rate is subject to market fluctuations.

50,000 Won | 10,000 Won | 5000 Won | 1000 Won

500 Won | 100 Won | 50 Won | 10 Won
Credit Cards
Credit cards are widely accepted by major hotels, shops, restaurants and retail outlets. It is advised to check with your credit card company for merchant acceptability and other services that may be available.
▶ The country code for Korea is 82
▶ The city code for Seoul is 02
▶ For dialing into Seoul from an overseas country: International dialling code + 82 + 2 + Local Number
▶ For dialing to an overseas country from Seoul: 001(수정필요) + Country Code + Area Code + Local Number



It is advised to check with the hotel before hand. The standard electricity supply is 220-volts AC/60 cycles. Although Korea uses both the 110 and 220-volts systems, the use of 220-volts system is more widespread and common. Most hotels have 220-volt wiring installed, but hotels may provide outlet converters for 110 and 220 volts.

Ambulance 1339

Fire 119

Police 112
Korea Travel Phone 1330
서울 '다산' 콜센터 120
Hangeul, Korea's official language, was first invented by King Sejong during the mid-15th century. Originally called Hunminjeongeum, the language was fully conceived in 1443, and further promulgated by King Sejong of the Joseon Dynasty in 1446. At the time of its inception, the language consisted of 17 consonants and 11 vowels. Currently, 3 of the originally established consonants and 1 vowel are no longer in use, bringing the total number of characters to 24. Korea's Hangeul vocabulary is formed by the selective combination of vowels and consonants to create words.
The official name for the Korean language was changed to 'Hangeul' in 1910. Hunminjeongeum Proclamation Day was called 'Gagya Proclamation Day' up until 1926, and it wasn't until 1928 that it was changed to its current celebration, 'Hangeul Proclamation Day'.
The chart below represents the 24 Hangeul characters together with their romanized equivalents. 'The Hunminjeongeum,' a historical document which provides instructions to educate people on the use of Hangeul, is registered with UNESCO. UNESCO awards a 'King Sejong Literacy Prize,' every year in memory of the inventor of Hangeul.

Hangeul written in syllabic units made up of two, three, or four letters.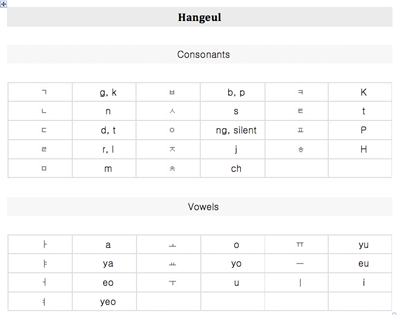 Basic Korean
Following are some Korean expressions/words you may find useful during your stay. Following the English expressions/words is the Romanized Korean phrase/word, followed by the same phrase/word written (phonetically) and then in Korean characters.
▶ Hello/Good Morning/Good Afternoon/Good Evening/How are you? -> Ann yeong ha se yo?(안녕하세요?)
▶ Hello (Answering telephone, Getting someone's attention) -> Yeo bo se yo?(여보세요?)
▶ Goodbye (Say to someone leaving) -> An nyeong hi ka se yo.(안녕히가세요.)
▶ Goodbye (Say when you are leaving) -> An nyeong hi kye se yo.(안녕히계세요.)
▶ Nice to meet you. -> Man na seo ban gap seum ni da.(만나서 반갑습니다.)
▶ Thank you. -> Kam sa ham ni da.(감사합니다.)
▶ You're welcome. -> Cheon man eyo.(천만에요.)
Korean for Emergencies
▶ Call a doctor! -> Wee sa rool boolah ju seh yoh!(의사를 불러주세요!)
▶ Call the police! -> Gyung chal rool boolah ju seh yoh!(경찰을 불러주세요!)
▶ Fire! -> Booleeyah!(불이야)
▶ Toilet -> Hwa Jang sil(화장실)
▶ Police Station -> Kyung Chal Seo(경찰서)
One important thing to note when travelling - your mobile phone may NOT work in South Korea. A short explanation about mobile phone systems:
GSM (Global System for Mobiletelephones) is one of the few mobile phone standards. It is the closest thing there is to an international standard. GSM systems are used in nearly 200 countries worldwide, from Europe throughout Africa, Asia and Australia. Non GSM countries include South Korea and Japan.
What do they use?
CDMA (Code Division Multiple Access) This standard was developed by QualComm, from which providers must license its use. There are CDMA networks in Argentina, Australia, Canada, Chile, Hong Kong, El Salvador, Guatemala, Israel, South Korea, Peru, Russia, Venezuela and Zambia. It offers some international roaming capability but nothing like the near-global coverage available from GSM carriers.
There are several solutions for this problem. You can rent a mobile phone at Incheon Airport upon arriving in Korea.
▶ Mobile phone rental service
Any T2K member can rent the cellular phones at a discount price by simply filling out the online application before leaving the country.
You can rent a WCDMA handset at Global Roaming Centers conveniently located in Incheon International Airport. Mobile phone CID (caller identification) service will be provided free of charge. Mobile phone rental roaming service covers 99% of populated area of South Korea. For business or pleasure, Mobile rental roaming is a good mobile solution during your stay in Korea.
For more information about the mobile service visit:
http://english.visitkorea.or.kr/enu/RE/RE_EN_1_2_4_1.jsp
http://www.skroaming.com/en/guide/cdma.asp
http://www.sroaming.co.kr/En/main/main.asp
▶ Mobile phone roaming service
Use your own mobile number while traveling in Korea. The first mobile service provider to successfully launch inter-standard GSM-CDMA automatic SIM roaming in the world, provides you with Automatic SIM Roaming service which enables you to use your own GSM mobile phone number while you're in Korea. For Automatic SIM Roaming, you should rent a SIM compatible handset conveniently located in Incheon International Airport.
Registration and attendance at the meeting is free. You are required to pay for your accommodations and meals. Coffee breaks are provided during the meeting.
As in any other big city, it is important to take responsibility for your personal safety and exercise precaution.
BEFORE YOU GO
Think preventively when packing for your trip; consider leaving behind expensive jewelry, watches, and items of sentimental value. A smaller, inexpensive camera may be a better choice than larger, expensive models. You may not need to take an ATM card if your credit card and a limited amount of cash will suffice.

Make a Xerox copy of your passport to carry in your luggage separately from your actual passport. Consider storing a digital scan of your passport (and/or other critical documents) with family, friends, or your employer so that it could be emailed to you in an emergency.

Tipping is not a regular practice in Korea. Service charges are included in your bill for rooms, meals and other services at hotels and upscale restaurants. Koreans occasionally do tip when they are especially pleased with the service they receive.

Service Charge (추가)
Tax(추가)
Tax Refund - Upon request, visitors can receive nearly 10 percent VAT refunds for purchases at Duty Free shopping outlets. Goods must be taken out of Korea within three months of purchase to be eligible for a tax refund. Only foreign tourists in Korea can apply for this tax refund. Visitors can receive a refund on a receipt for a minimum purchase of KRW 50,000. To receive this refund, present refund receipts with the purchased goods at the customs desk at the Incheon International Airport when departing. These receipts can be cashed in at the Cash Refund Office in front of the Airport Duty Free Shop.
Cosmo Jin Tour will be offering a special discount to ICANN meeting participants on half-day and full-day tours. Contact Ms. JungMyung Jin today or you can visit Cosmo Jin Tour in the exhibit area on Level 2 at the Lotte Hotel for assistance during the conference.
Contact: Ms. JungMyung Jin
Tel: +82-2-318-0345, +82-19-548-0345
Email: dosa3141@cosmojin.com
website: http://www.cosmojin.com/
Subway
The subway is the most efficient and convenient way to get around Seoul. The subway system has developed into these cities main transport system and continues to provide a fast, safe, and comfortable means of transportation. In Seoul, it links Seoul with its outlying areas and satellite cities. (지하철은 시내와 외곽을 연결하는 노선을 포함하여 총 8개 노선이 있다.) On the intercity network, trains operate at intervals of 2.5 to 3 minutes during the morning and evening rush hours, and intervals of 4 to 6 minutes during non-peak times. For more information, please refer to the Seoul Metropolitan Subway Corporation.
※ For Information is English on the Seoul subway, click
http://www.seoulmetro.co.kr/eng/
Bus
Inter-city bus networks connect virtually all cities and towns in the country and are an economical way to travel. Exclusive bus lanes are enforced in the daytime, which makes it less time-consuming to travel by bus. City buses are numbered according to their routes, but since signs are only in Korean and no English timetables are available, it is advisable to know the bus number in advance.
※ For Information is English on the Seoul bus, click
http://english.seoul.go.kr/residents/transport/trans_05bus.html
Taxi
Taxis are plentiful, clean, safe, and inexpensive in Korea. During the day, the basic rate is 2,400 won for the first two kilometers and 100 won for every 144 meters thereafter. They can be found at taxi stands in most busy city areas or hailed on the streets. There are also certain taxis that can be requested by phone, however, the fare is slightly higher than regular taxis. An increasing number of taxi drivers nowadays speak some English which may prove extremely useful for first-time visitors.
Beginning March 2007, credit cards and pre-paid money cards used for buses and subways in Seoul will be accepted in taxis through the city's newly introduced system. As new technology is being installed in all taxis, it will take another 3 to 4 years to fully implement the revised system. Only deluxe taxis are currently equipped with the new system.
Most taxis may accept credit cards.
Car rental
Driving in Korea can be an exciting and effective way of getting around. An extensive road and expressway network is available, which means you can visit every corner of the country. Road numbers and destinations are clearly indicated on road signs. Drivers must meet the following requirements: one year of driving experience, an international driver's license valid for a year from the date of entry, at least 21 years of age, and valid passport.
The speed limit is 60km/hr for most roads in the city and 80km/hr for city expressways including Olympic Expressway. Driving while intoxicated involves a very heavy penalty.
How to get in Seoul From Incheon International Airport

Option 1: KAL Limousine Bus
KAL Limousine Bus is the most convenient way to travel from the Incheon International Airport to the venue. You may get information on the KAL limousine buses and purchase bus tickets at the Transportation Information Counter (near the exit No. 4) on the arrival floor (1st floor) of passenger terminal. The KAL Limousine bus takes about one hour and 10 minutes. The regular price is 14,000 KRW, but you will get a discount of 2,000 won if you bring the coupon below. This coupon only can use at the KAL Limousine desk next to Gate 4 (Counter No.22.)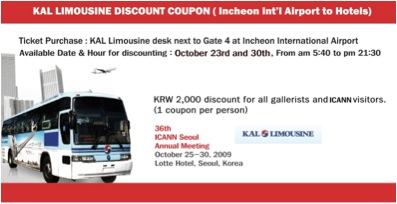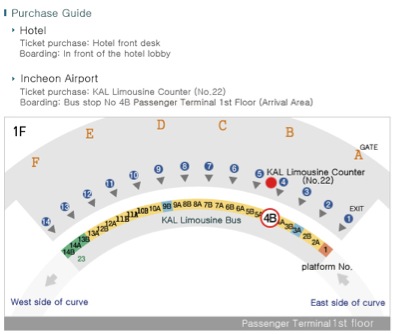 The KAL Limousine Schedule
Incheon Airport > Lotte Hotel Seoul
Lotte Hotel Seoul > Incheon Airport
AM
04:47 05:20 05:50 06:20 06:55
05:30 05:50 06:10 06:30 06:50 07:10
07:17 07:35 08:03 08:20 08:40 09:00
07:30 07:50 08:10 08:30 08:50 09:10
09:20 09:40 10:00 10:20 10:40 11:00
09:30 09:50 10:10 10:30 10:50 11:10
11:20 11:40
11:30 11:50
PM
12:00 12:20 12:40
12:10 12:30 12:50 13:10
13:00 13:20 13:40…16:00 16:20 16:40
17:00 17:25 17:40…19:00 19:25 19:40
20:00 20:30 21:00 21:30 22:00 22:30
13:30 13:50 .......... 18:10 18:30 18:50
Option 2: Airport Railroad Express
Airport Railroad Express (AREX) was opened on March 23, 2007 between Incheon International Airport and Seoul. One of the merits to use the railroad is that travelers can avoid the heavy traffic in Seoul.
Service hours: 7:00~21:00 (365 days a year) http://www.arex.or.kr
1. When you out of the arrival floor, you will see a sign for the Transportation Center, where you can catch the AREX. Follow this sign and go to the Incheon International Airport Transportation Center.
2. You can buy a ticket from a vending machine at the Transportation Center or from the Ticket Box(Korean Currency).
3. Go to the AREX entrance
4. Place the ticket lightly on the ticket sensor at the AREX Gate.
5. On the platform, the arrival time of the next train is displayed on an electronic bulletin board.
6. The interior of a commuter train is similar to that of subways in Korea. Long benches run along each side and face each other. Seats on an express train are arranged in the same way as on the KTX train.
7. When you get off the train at Gimpo Airport Station, you will see purple signs on the platform showing the way to Seoul Subway Line 5. In order to transfer to Subway Line 5, follow the signs and insert your ticket into the turnstile at the exit. You need to buy a separate ticket for the Seoul Subway.
8. When you enter the station, you need to keep your ticket after having it read by a sensor at the turnstile. When you exit the station, you need to insert the ticket into the turnstile.
Option 3: Airport Taxi
Using a Airport Taxi can be expensive but it'll be worth if you have heavy baggage or don't know the location of your accommodation. The expressway toll (~ 7,400 won) will be charged to the taxi passenger. Standard and deluxe taxis carry up to four passengers, and the jumbo deluxe taxi takes up to eight passengers. The fare for a deluxe taxi is about 50% higher than for a standard taxi, but the quality of service is much better. While standard taxis have a late night surcharge, the deluxe taxi does not charge one. If you are planning to take a taxi after midnight, you might as well take a deluxe taxi. Depending on your destination, the fare for a standard taxi from Incheon International Airport to downtown Seoul should be 60,000 ~100,000. The 7,400 won toll fee for the Incheon International Airport Expressway needs to be paid by the passenger. To take a taxi, exit the arrival floor (1st floor) of the airport through Gates 4 through 8, cross the street, and go to the taxi stands at 4C~8C. In Korea, there are three types of taxis.
FROM THE AIRPORT TO VENUE LOTTE HOTEL MAP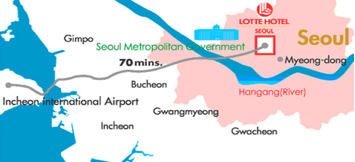 Distance from the Incheon International Airport: 59.50 Km
| | | |
| --- | --- | --- |
| | KAL Limousine Bus | Taxi |
| Travelling Time | 70 mins | 59 mins |
| Fare (KRW) | KRW 14,000 | KRW 70,000 |