Travel & Visa
Request an Invitation Letter (Note: Invitations processed in

4-5 Business Days

.)
ACCESS to SEOUL
▶ How to obtain a visa
All visitors to the Republic of Korea must have a valid passport and visa.
Visitors with roundtrip tickets from countries who have a special agreement with Korea may be exempt from the visa requirement and can stay in Korea visa-free for periods up to 30 days or 90 days, depending on the type of agreement between two countries.
Designated Countries allowed to enter Korea without a Visa
| | |
| --- | --- |
| REGION | COUNTRIES |
| Europe (11) | Bosnia-Herzegovina, Croatia, Cyprus, Monaco, Slovenia (90 days), Serbia, Montenegro, San Marino, Vatican, Albania, Andorra |
| | |
| Asia & Oceania (26) | Australia (90 days), Brunei, Fiji, Guam, Hong Kong (90 days), Japan (90 days), Kiribati, Kuwait, Macau (90 days), Marshall Islands, Nauru, New Caledonia, Micronesia, Oman, Palau, Tuvalu, Tonga, Qatar, Yemen, Saudi Arabia, Samoa, Solomon Islands, Taiwan, Arab Emirates, Indonesia (diplomatic and government officials), Lebanon (diplomatic and government officials) |
| | |
| America (8) | United States (90 days), Canada (6 months), Guyana, Guatemala, Argentina, Ecuador, Uruguay, Paraguay |
| | |
| Africa (5) | Egypt, South Africa, Seychelles, Swaziland, Mauritius |
Countries under Visa Waiver Agreements
Find Countries under Visa Waiver Agreements with korea, Click the following link
http://www.g4f.go.kr/pt/en/info/popup/icis/VisaWaiver_pop.htm
Visa information does change rather quickly and it may happen that what we have posted above is outdated. To make sure you are proceeding with accurage information, please check with Immigration directly http://www.immigration.go.kr/HP/IMM80/,
http://www.hikorea.go.kr/pt/InfoDetailR_en.pt?categoryId=2&parentId=15&c... and http://www.mofat.go.kr/english/visa/apply/index.jsp
※ For information you can also try calling:
02-2650-6399 ( 82-2-2650-6399 outside Korea)
02-1688-0120 (82-2-1688-0120 outside Korea)
▶ Incheon Airport
Incheon International Airport is a new state-of-the-art airport built on 5,610 hectares of reclaimed land. Its location makes it a premier regional gateway of major air routes to about 40 cities, each with more than one million people. All of these cities are within 3.5 hours by plane. The Incheon International Airport is ranked 7th in the world airport ranking and 1st in airport service quality for 4 consecutive years. Also In Korea, there are two national airlines, Korean Airlines and Asiana Airlines.
※ For more information about the Incheon International Airport, click the following link
http://www.airport.kr/eng/airport/index.jsp
Quarantine
- Passengers and flight attendants arriving from areas infested with cholera, yellow fever, and pests (Southeast Asia, Middle East, Africa, South America) must complete a quarantine questionnaire and submit it at time of arrival.
- If you had symptoms such as diarrhea, abdominal pains, vomit, fevers, etc. during travels, you must declare it to the quarantine officer on arrival and if diarrhea and other symptoms continue, you must declare it at a nearby quarantine station or welfare center.
- When arriving with animals, livestock or plants, you must submit an animal and a plant quarantine certificate from the country of departure to the National Veterinary Research and Quarantine Service and receive quarantine.
- Most fresh fruits, vegetables, walnuts, and plants in soil are prohibited, and when plants are not declared, a fine will be imposed.
※ For more information about Quarantine, click the following link
http://nqs.cdc.go.kr/incheon-airport
※ Traveler Quarantine report or questions : 82-32-740-2700,2706,2074
Customs for Visitors
To respond to the emerging threat of liquid explosives and following the recommendation of ICAO (International Civil Aviation Organization), passengers are reminded that liquids, aerosols and gels onboard aircraft in their carry-on bags will be subject to hand baggage restrictions from 1 March 2007 and will be applicable to all international flights (including transfer and transit flights) departing from Republic of Korea.
To ease your journey, we recommend you to arrive at the airport at least three hours before your estimated time of departure. When you check-in, please ensure that most items are placed in your hold baggage and only items of value or that you need whilst on board are carried in your hand baggage. The following information will help you prepare for your journey.
Your cooperation on this matter is highly appreciated.
Rules for liquids, aerosols and gels in your hand baggage
Limit on liquids/aerosols/gels : 100ml (3.5oz) or less per container The bag may not be greater than 1L (35oz)
Permitted items for carry-on
- All liquids, aerosols and gels must be in individual containers not greater than
100ml capacity
- Items shall be placed in clear transparent resealable 1liter-size bag
- All containers containing liquids, aerosols and gels must be placed in zip-top type
plastic bag (approximately 20cm×20cm in dimensions) and fit comfortably
sealed/zipped in the bag
- Each passenger is allowed only 1 liter-size resealable plastic bag
- Each passenger must remove their clear plastic bag from their hand baggage and
place it in on the conveyor belt for X-ray screening
※ Requirements listed above are mandatory.
Duty free items
Liquids, aerosols and gels purchased at airport duty free shops after passing the
security checkpoint or purchased at duty free shops in the city and delivered at the
airport's duty free pick-up counters are allowed under following conditions
a. Liquids, aerosols and gels must be packed in a sealed transparent plastic bag
(tamper-evident bag);
b. The tamper-evident bag must not be opened or damaged until the final destination.
c. Receipts of the purchased duty-free items must be properly attached on or enclosed in the tamper-evident bag.
Liquids, aerosols and gels purchased at airport duty free shops in containers of more than 100ml capacity will be allowed on board.
※ Requirements listed above are mandatory.
※ Tamper-evident bags will be provided by duty free shops when shopping.
Exemptions
If the medicine is in a container of over 100ml, you must bring proof of prescription.
▶ Transportation
How to get in Seoul From Incheon International Airport
Option 1: KAL Limousine Bus
KAL Limousine Bus is the most convenient way to travel from the Incheon International Airport to the venue. You may get information on the KAL limousine buses and purchase bus tickets at the Transportation Information Counter (near the exit No. 4) on the arrival floor (1st floor) of passenger terminal. The KAL Limousine bus takes about one hour and 10 minutes. The regular price is 14,000 KRW, but you will get a discount of 2,000 won if you bring the coupon below. This coupon only can use at the KAL Limousine desk next to Gate 4 (Counter No.22.)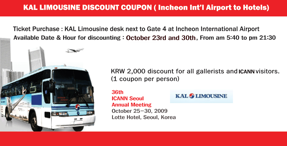 Option 2: Airport Railroad Express
Airport Railroad Express (AREX) was opened on March 23, 2007 between Incheon International Airport and Seoul. One of the merits to use the railroad is that travelers can avoid the heavy traffic in Seoul.
Service hours: 7:00~21:00 (365 days a year) http://www.arex.or.kr
1. When you out of the arrival floor, you will see a sign for the Transportation Center, where you can catch the AREX. Follow this sign and go to the Incheon International Airport Transportation Center.
2. You can buy a ticket from a vending machine at the Transportation Center or from the Ticket Box(Korean Currency).
3. Go to the AREX entrance
4. Place the ticket lightly on the ticket sensor at the AREX Gate.
5. On the platform, the arrival time of the next train is displayed on an electronic bulletin board.
6. The interior of a commuter train is similar to that of subways in Korea. Long benches run along each side and face each other. Seats on an express train are arranged in the same way as on the KTX train.
7. When you get off the train at Gimpo Airport Station, you will see purple signs on the platform showing the way to Seoul Subway Line 5. In order to transfer to Subway Line 5, follow the signs and insert your ticket into the turnstile at the exit. You need to buy a separate ticket for the Seoul Subway.
8. When you enter the station, you need to keep your ticket after having it read by a sensor at the turnstile. When you exit the station, you need to insert the ticket into the turnstile.
Option 3: Airport Taxi
Using a Airport Taxi can be expensive but it'll be worth if you have heavy baggage or don't know the location of your accommodation. The expressway toll (~ 7,400 won) will be charged to the taxi passenger. Standard and deluxe taxis carry up to four passengers, and the jumbo deluxe taxi takes up to eight passengers. The fare for a deluxe taxi is about 50% higher than for a standard taxi, but the quality of service is much better. While standard taxis have a late night surcharge, the deluxe taxi does not charge one. If you are planning to take a taxi after midnight, you might as well take a deluxe taxi. Depending on your destination, the fare for a standard taxi from Incheon International Airport to downtown Seoul should be 60,000 ~100,000. The 7,400 won toll fee for the Incheon International Airport Expressway needs to be paid by the passenger. To take a taxi, exit the arrival floor (1st floor) of the airport through Gates 4 through 8, cross the street, and go to the taxi stands at 4C~8C. In Korea, there are three types of taxis.
FROM THE AIRPORT TO VENUE LOTTE HOTEL MAP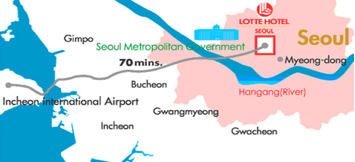 Distance from the Incheon International Airport: 59.50 Km
| | | |
| --- | --- | --- |
| | KAL Limousine Bus | Taxi |
| Travelling Time | 70 mins | 59 mins |
| Fare (KRW) | KRW 14,000 | KRW 70,000 |